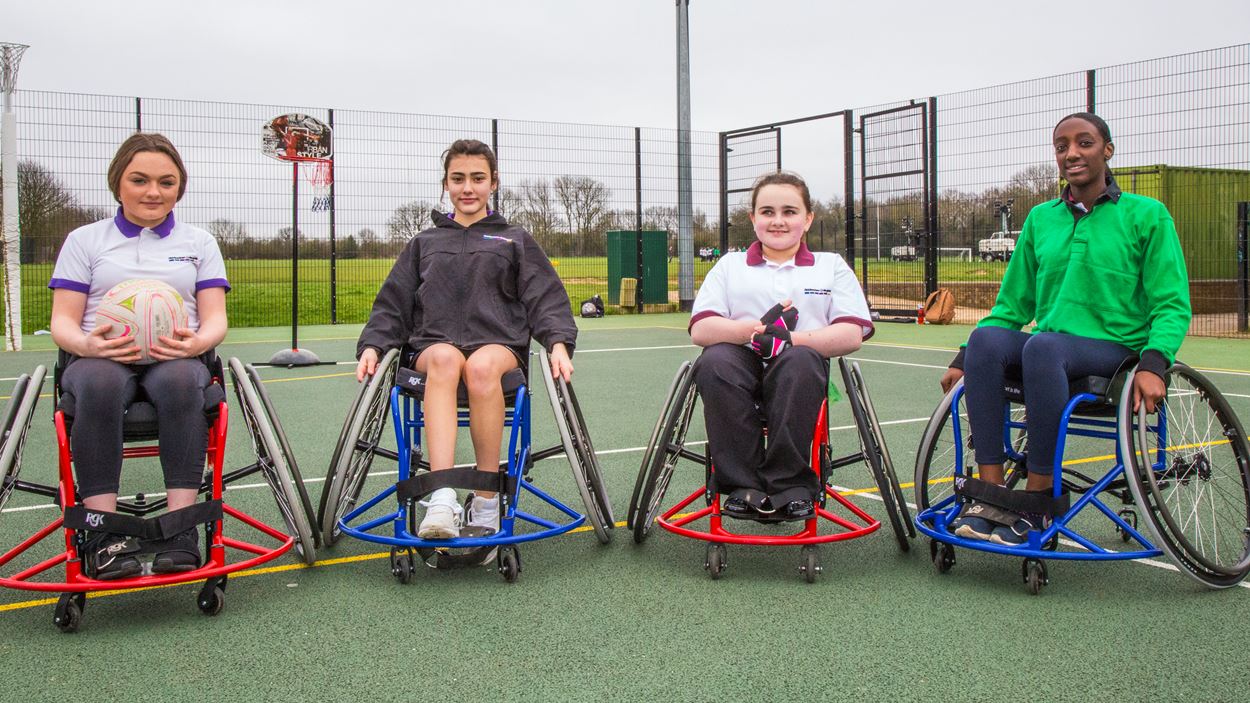 Sports Wheelchairs
Sports Wheelchairs
Four sports wheelchairs, funded by players of the People's Postcode Lottery, have given students at Riddlesdown Collegiate in Surrey the chance to play sport together, regardless of their ability or background.
Megan (15) has been a wheelchair user since the age of two, after being diagnosed with thoracic neuroblastoma. As the only disabled student in her class, PE lessons were a challenge: Megan would join in with netball and basketball games but because of the height difference she was easy to mark and never really got the ball. Despite having very good hand-eye coordination, Megan lost confidence and thought she was 'rubbish' at sport.
When the new sports wheelchairs arrived it meant the class could start playing wheelchair basketball together in lessons. Suddenly, Megan was able to see how good she was compared to non-disabled girls and her self-confidence increased. The other girls also saw hard you had to work in a wheelchair and gained a better insight into the challenges facing Megan on a daily basis.
The highlight of last year was competing in the Croydon Inclusive Zone Basketball team at the London Games at Crystal Palace, where other year nine girls took it in turns to join Megan in a wheelchair for a tournament. Megan was at last able to feel part of a sports team and realise she was valued by her peers for her sports skills.
"Thanks to the Lord's Taverners and players of the People's Postcode Lottery we can now participate in so many more PE lessons and activities. I love being able to compete at the same level as my peers."
Liz Johnson, PE teacher at Riddlesdown Collegiate, says the new wheelchairs have made a big impact around the school:
"They've made a huge difference! Thanks to our new wheelchairs a disabled student in year eight was able to play wheelchair basketball with non-disabled students in year 12. It did his confidence so much good - he went away so proud!"