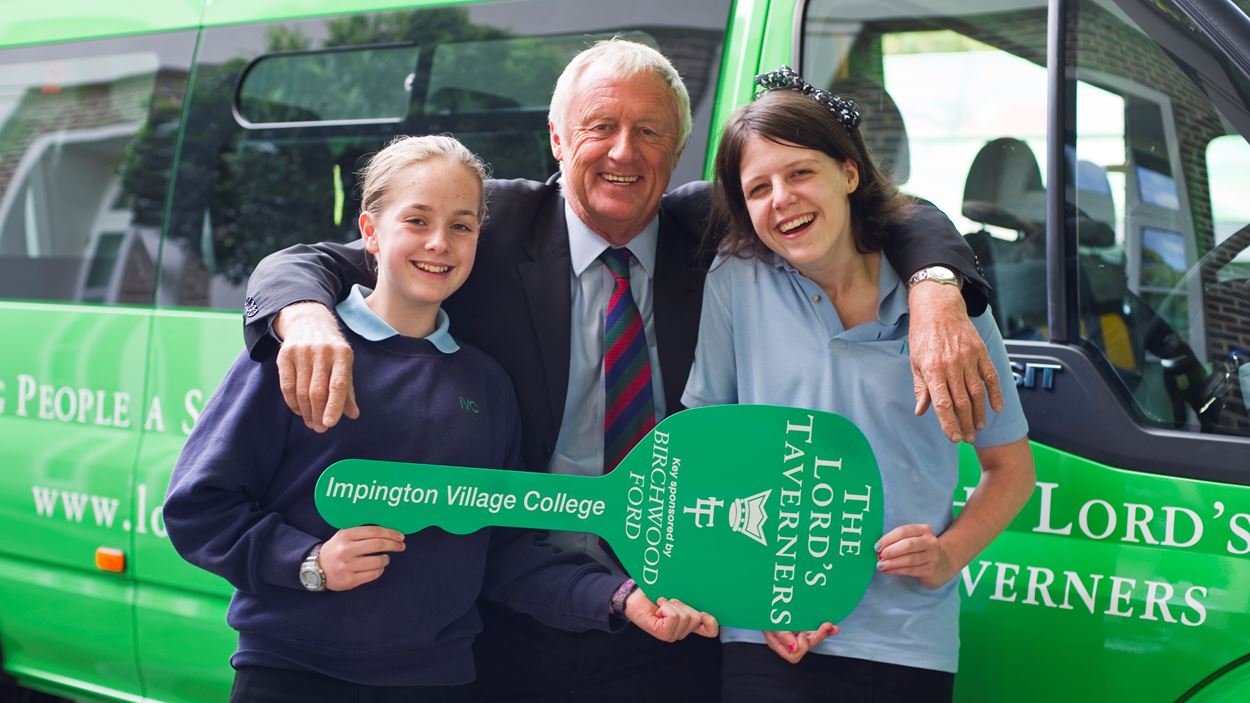 News
Presidents' Memories – Chris Tarrant
There have been 40 Presidents of the Lord's Taverners. From the charity's first ever President, Sir John Mills, to current President, David Gower, there has been a whole host of stellar names from the worlds of cricket and show business who have taken on the role.
Throughout our 70th anniversary year we'll be speaking to as many former Presidents as possible to reflect on seven decades of the charity. On this occasion we hear from broadcast legend Chris Tarrant who was President of the charity in 2009 and 2010.
How did you first you get involved with the Lord's Taverners?
Back in the 1970s I was doing Tiswas in the Midlands and Fred Rumsey arranged a cricket match at Trent Bridge for the Tiswas All Stars against the Taverners. Frankly, I had never heard of them.
It was a total sell out, full of mums and their kids, and we did all things that Tiswas people do, like custard pies, buckets of water over the umpire, exploding cricket balls, stumps that caught fire etc.
For the Tiswas team of course this was brilliant, but not so much fun though for the Taverners, who turned up in their whites and went home covered in gunge. However, Fred Rumsey, once he had paid for the dry-cleaning bill, asked me if I would like to join and I've been part of the Lord's Taverners ever since.
What makes the Taverners special?
I love it. I've made so many close friends through the charity and have also met some of my all-time heroes. I've stood next to Sir Garfield Sobers, batted with Andrew Strauss – we shared an 80-run partnership, but I should say, he got 79 of them – and bowled a maiden to Brian Lara.
But above all it's the faces of the kids that the charity serves and the emotional moment when the kids take the keys of their own green Lord's Taverners minibus. I've seen this happen all over the UK, and it still brings a tear to my eyes. It totally transforms the lives of the children living with disabilities.
What's your best fundraising and/or charitable memory?
My 70th Birthday! It was the most brilliantly kept secret. I just walked into what I thought was going to be a quiet room with Jane and the kids and 350 Taverners were there – all hidden away wearing ridiculous Chris Tarrant face masks. It was a truly wonderful night. I can't believe they kept it a total secret from me, and in the end raised thousands of pounds for the Taverners.
Can you share any standout Taverners XI moments?
As I said before, bowling a maiden to Brian Lara at Lord's. Toby, my son kept handing me the ball and saying "Dad, he doesn't know how bad you are." He obviously thought about if for the next six balls, because the first four balls of my second over were hit for six all over St John's Wood. The Captain then very wisely, took me off.
How far has the charity come since you first got involved?
It has always been an on-going development, but the last 30 years have seen it go from strength to strength. There are so many charities around today, but it continues to bring in more revenue for disadvantaged and disabled young people year after year, and it remains great fun to be involved with.