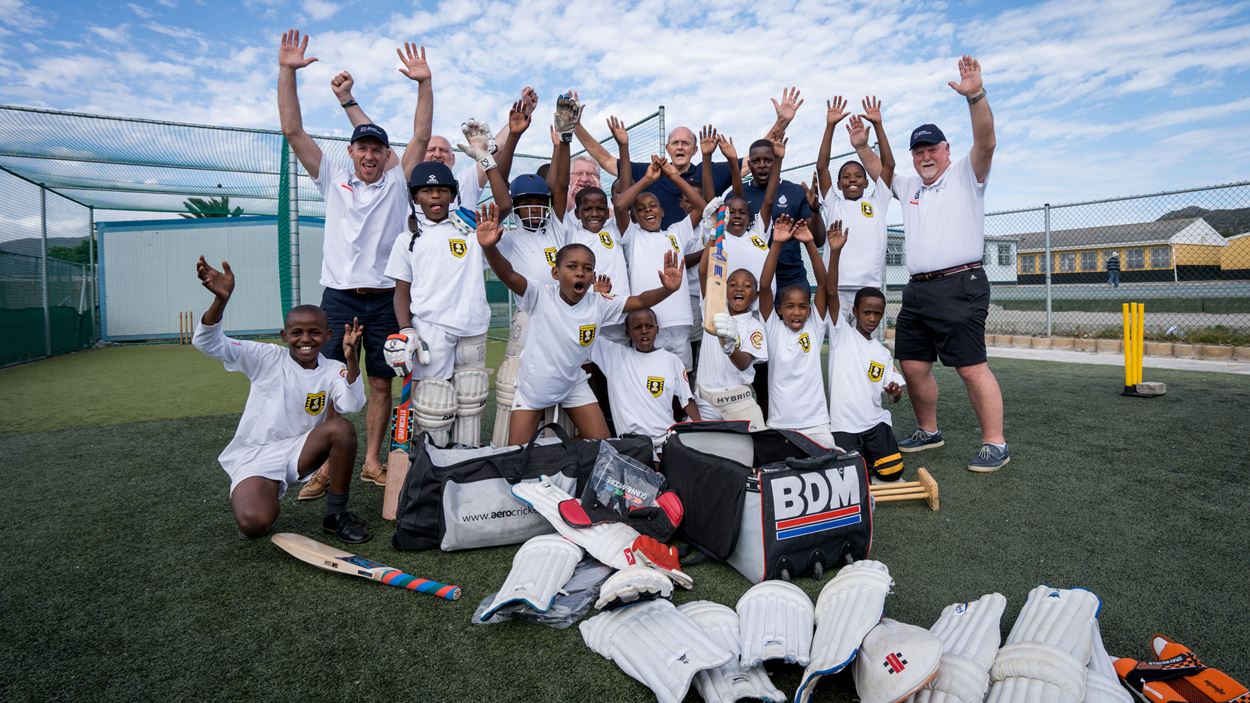 News
Taverners leave cricketing legacy in Cape Town
Celebrities from the world of sport and show business left a sporting legacy to the children of the Masiphumelele township in Cape Town.
Jonnie Irwin, presenter of Channel 4's A Place In The Sun, joined former England cricket captain Mike Gatting to take time out of the charity's Celebrity Cricket XI tour to Cape Town to visit the project and announce a long-term partnership to support sports development at the township's only primary school with regular deliveries of recycled sports equipment.
As part of the Lord's Taverners Sports Kit Recycling programme, the duo delivered cricket equipment to the MCC Masi 750 Sports club which included a donation of bats, batting pads, gloves and bag from The Cricketer Magazine and Gunn and Moore Cricket.
The MCC Masi 750 Sports club has rejuvenated sport at the only primary school, Ukhanyo, in the Masiphumelele township of 45,000 residents, which has a 70% unemployment rate, who live in just half a square kilometre and they will now receive regular shipments of equipment from the charity.
Ukhanyo with its almost 2,000 pupils is an amazing energetic academic institution. Yet, up to 2017, it had limited sport facilities. Now it boasts two artificial sports fields, three cricket nets and runs 17 teams across eight sports – made possible through the support of local partners and a grant from the MCC.
"Many young people find it hard to access sport, with one of the main barriers being a simple lack of access to the right kit and equipment," explained Irwin. "The sports kit recycling programme collects usable kit and then it is redistributed to partner organisations within the UK and around the world, who can put it to great use in their communities as we have seen first-hand at the MCC Masi 750 Sports Club.
"When you think that less than three years ago, UKhanyo had no field and just one netball court, it's amazing to see how sport is making a huge difference every day. It's fantastic that we can play our part in that and for many years to come with the announcement of this long-term partnership to provide playing kit and equipment for the current and future generations of Masiphumelele."
Vince van der Bijl, former Natal and Middlesex fast bowler, helped to lay the building blocks of the project to provide the resources to sustain a fully-fledged sports programme within the community.
He added: "The Headmaster here believes that sport is a game changer and I think it goes even further than that. We deliver education and every practice starts with life skills. Combine that with sport and I think you have a life-changer, something that can really give someone the self-confidence and self-worth to go out and make a magnificent life for themselves.
"The kit is important for us, the cricket balls are particularly welcome and we are very thankful to anyone who has donated. We hope the Taverners will be able to make regular donations to us."