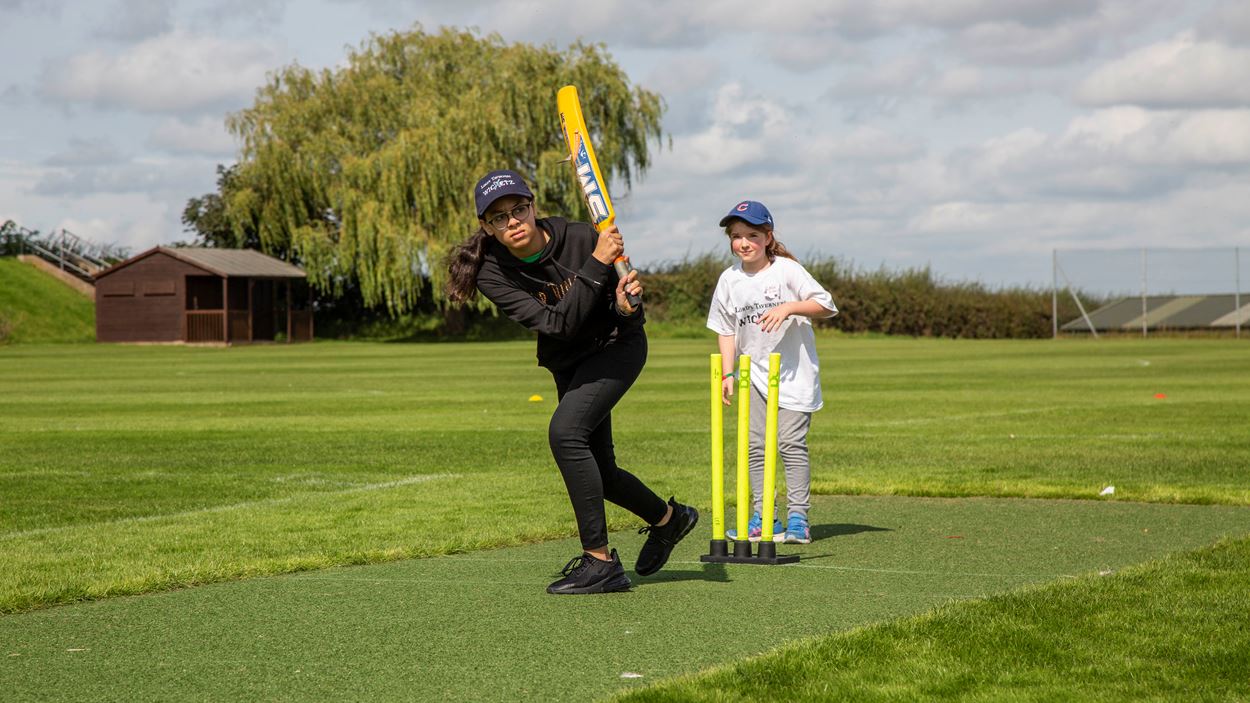 News
Inaugural Girls Wicketz Festival inspires and educates
55 girls from Bristol, Plymouth, Wales, Manchester, Luton, Hartlepool, Bradford, Nottingham and Peterborough were bowled over by the Lord's Taverners Wicketz programme's first ever all girls Wicketz Festival at Repton School last week (20 August), as the charity continues to deliver on its pledge to use cricket to positively impact young people.
Wicketz, a Lord's Taverners programme using cricket as a tool for change, saw participants from all over the country descend on Derbyshire for the inaugural girls' Wicketz Festival for three days of celebration, education and cricket.
During the residential they had the chance to play numerous cricket-based competitions as well as take part in team building exercises delivered by the Royal Navy.
Hira Raza, 14, (Luton) is one of the scheme's most energetic participants and she said she will be forever grateful for the opportunity to discover her love for cricket.
"I had never played cricket before but as soon as I went to Wicketz, I fell in love with it," said Hira. "I love learning all the new skills. I feel lucky because not many girls get the chance to play cricket at a place like this. It's really fun to make new friends through Wicketz who all share the love for the sport."
"The Wicketz programme isn't just about cricket, but it's about helping the girls gain confidence and learn more about themselves." said Vicky Reeve, Wicketz Development Officer for Plymouth. "Women's sport has grown massively over the last decade and we want to help these girls find their path. They have their role models now and we want to continue to inspire them."
"My classmates invited me to join the Wicketz programme and there wasn't many girls at first, but now there is and it's amazing," added Ella-Mae Hope, aged 10 (Plymouth). "We always do a lot of teamwork activities and I love making new friends while playing cricket."
The girls were treated to a talk by ESPNCricinfo journalist Melinda Farrell about sports journalism and they also attended workshops educating them on a number of social issues including body confidence, online safety and women conversation leads.
Farrell said: "It's fantastic to see this residential being done for girls. It's another sign of how much the sport is growing. The biggest growth area in the sport is with girls and women, it's a huge part of the future of the sport.
"I feel a bit jealous in a way, I would have loved this when I was a little girl. To be able to see them embracing a sport they love and feel comfortable and accepted in is great. Programmes like this are brilliant in creating memories and allowing the girls to have fun.
"I want girls to see my job and think 'actually I can do that', that it's not only for boys or men anymore. Hopefully, some of these girls will aspire to be a journalist and will chase it.
"It's all about giving girls the confidence to express their opinion and making themselves feel valued, making them feel that they have just as much right to be fans of cricket and sport and to talk about it as boys."
Across the UK, around 20 per cent of all Wicketz participants are girls who voluntarily attend weekly cricket sessions and benefit from wider opportunities to develop social and personal skills. In 2018, the Wicketz project saw a five-fold increase of girls regularly attending cricket sessions run by the Lord's Taverners.
The programme aims to establish community cricket clubs in hard-to-reach, deprived areas where opportunities to play sport are lower than the national average. This year has seen Wicketz go from strength to strength with projects launching in Hull, Southampton and South Wales and more than 115 workshops delivered nationally.