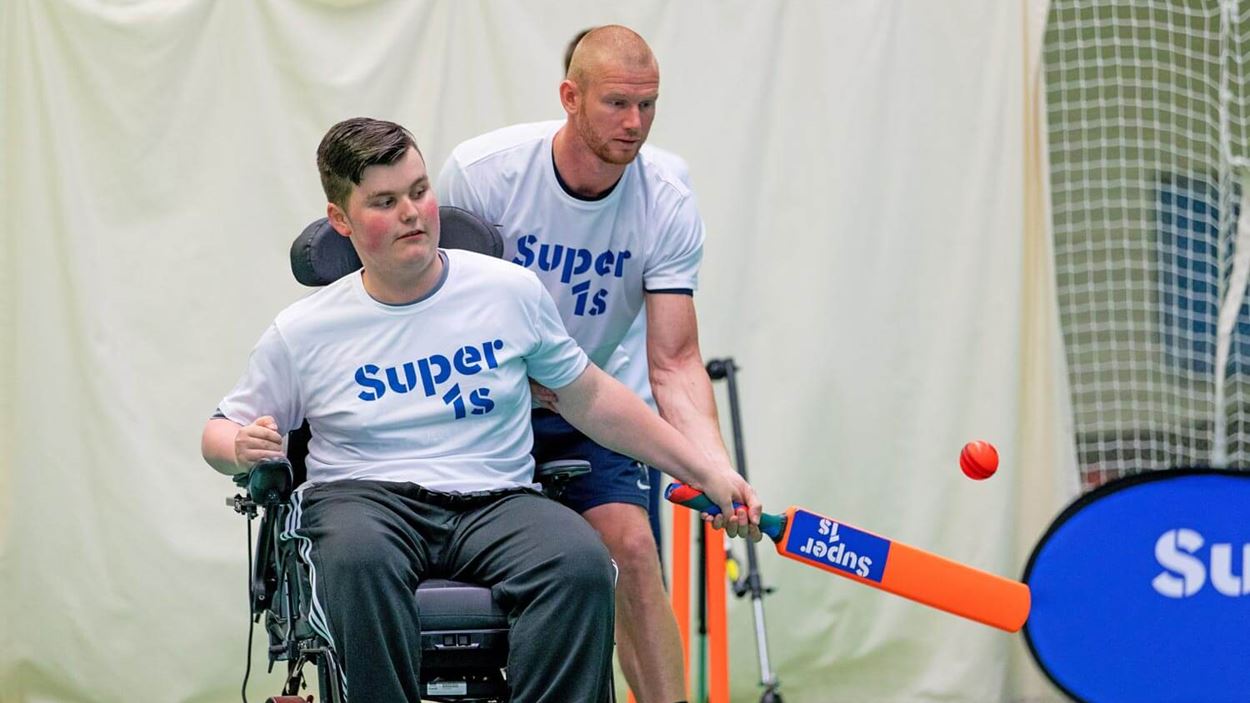 News
Root and Bairstow get behind Super 1s
England cricket stars Joe Root and Jonny Bairstow have backed a new disability cricket programme launched by the Lord's Taverners.
England captain and Yorkshire batsman Root was joined by team mate Bairstow to help launch Super 1s – a national project that will allow young people with disabilities the chance to play regular cricket.
Speaking about the programme, Root said: "I grew up loving the game for what it was, and just because you've got any form of disability, it shouldn't mean that you can't play the game. It's great that the Lord's Taverners are opening the sport up to people who may not have been able to play before. The more we can do that and the more people we can get involved, it can only be good for the game, so I'm all for it, I think it's brilliant."
Building on the success of the project in London which has been running since 2013, the new Super1s programme will not only deliver in all 32 boroughs of the Capital, but youngsters in Manchester and Birmingham are already enjoying weekly cricket with the project set to be rolled out in more areas across the UK over the next 12 months.
The Lord's Taverners is the UK's leading youth cricket and disability sports charity, dedicated to giving disadvantaged and disabled young people a sporting chance.
Bairstow added: "This is a fantastic initiative by the Lord's Taverners to give people with disabilities the chance to play cricket, the game we love, and spreading it across the country."
To help launch the programme, the two England starlets held a short coaching session with one of the shining lights of the programme. Sam Alderson, who lives with TAR syndrome, has come through the programme as a participant and is now working on becoming a qualified cricket coach, but he had the unique opportunity to bowl at Root and Bairstow.
Super 1s gives young people with disabilities aged 12-25 the chance to play cricket regularly. By creating community cricket hubs for young people to receive coaching from county cricket boards, the programme gives disabled young people the chance to compete against their peers, enjoy the benefits of sport and live a more active life.
The new ground-breaking programme will benefit youngsters in all aspects of their life; it has been proven that engaging in regular sport helps young people develop personal skills, including confidence, leadership and independence.
For many young people with disabilities, opportunities to take part in regular competitive sport can be limited. But the Super 1s programme has created a new pathway for disabled young people to play the game.
Super 1s will be delivered in London, Bedfordshire, Cambridgeshire, Greater Manchester, Hertfordshire, Huntingdonshire, Norfolk, Scotland, Sussex, and Warwickshire with activity starting in Hampshire, Gloucestershire and Yorkshire in the coming months.
Lord's Taverners Disability Project Manager and England visually impaired cricketer, Mark Bond, had this to say on the new Super 1s programme: "Super 1s will not only get more young people with a disability playing cricket, but in doing so will provide them with crucial skills that will empower them to live independent and fulfilling lives."