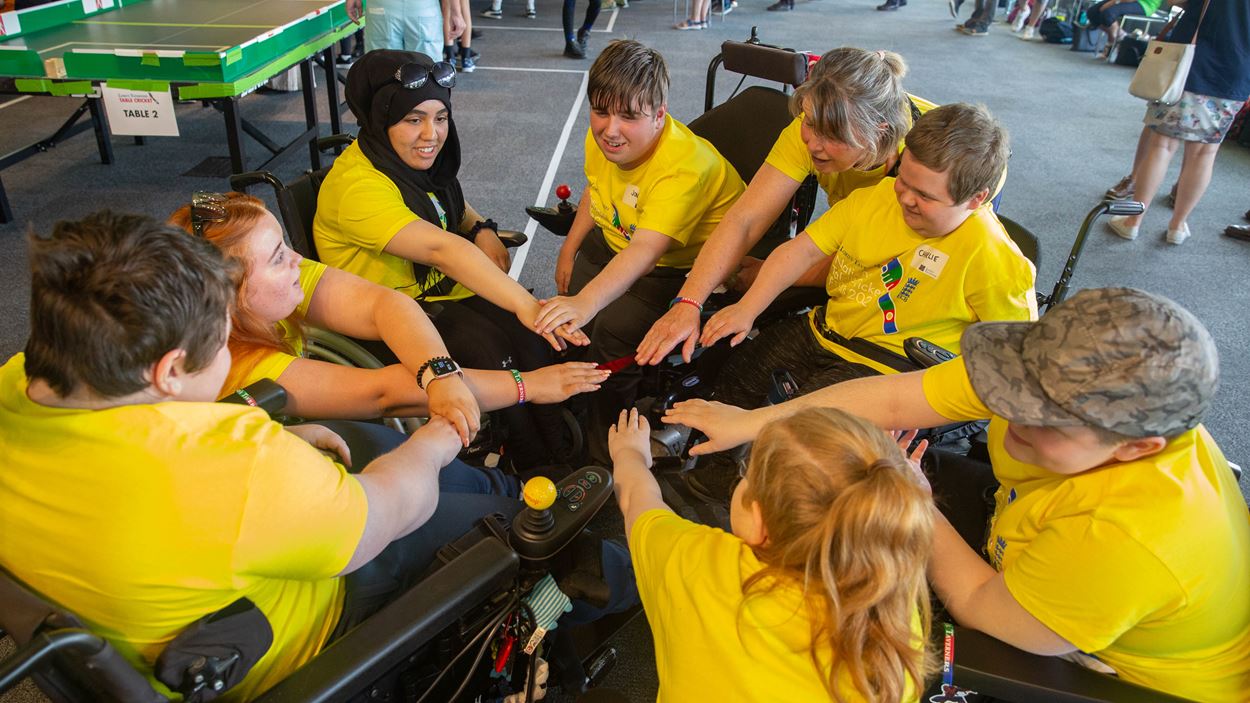 About Us
Our Trustee Board
The Lord's Taverners Board comprises up to 12 Trustees, three elected members voted for by the membership at the AGM and up to nine others appointed through an open recruitment process. The election and recruitment process are led by the Nominations Committee. Members are invited to apply for any Trustee position. 
Our Trustees
Tim Luckhurst (Chair)
Tim Luckhurst was elected to the Trustee Board in April 2020 and became Chair in May 2020, having been a Taverner for a number of years.
Tim has a banking background, having worked for RBS for 34 years, which involved him working in Europe, Middle East, Asia and North America. His experience concentrated upon relationship management within the asset finance industry with a focus upon real estate and shipping projects.
Tim plays his cricket for Tunbridge Wells as well as turning out for the Taverners on a regular basis. He is also captain of the Kent over 50's side.
He said: "Cricket has always been a huge part of my life with Dad playing for Kent, so becoming a Taverner just seemed like the natural thing to do. Over time, I've got to learn more about the impactful programmes they've run and when they asked for volunteers to become a trustee, I felt I had relevant skills to be able to help.
"Since becoming a trustee, I've been given the chance to attend Wicketz, Super 1's and Table Cricket events. It's made me even more proud to be a Taverner when you see the real difference, we can make to the lives of so many young people and their families as they battle inequality."
Abeed Janmohamed
Abeed has more than 20 years digital experience in start-up and scale-up business and also as a board member and non-executive director.
His entrepreneurial mindset and passionate leadership has helped scale businesses and he is skilled in all aspects of digital transformation, revenue strategy and building strong business cultures and value systems
He also has extensive knowledge across agencies, advertising, marketing technology, retail technology, sport technology and blockchain and is experienced in commercial strategy, market entry and corporate development.
Abeed's global expertise and knowledge includes the start-up landscape across Africa, Europe and North America.
Suzy Christopher
Suzy is a long-term member of the Lord's Taverners and is the safeguarding and EDI (equity, diversity and inclusion) lead on the board. She previously served as an elected trustee.

After a long and varied agency and in-house career spanning PR, internal comms, brand, partnerships and strategy development, Suzy launched Untapped, an inclusive marketing and communications agency, in 2020. She works with clients around the world which are embracing technology, sport, the arts and culture to solve the planet's biggest challenges and drive social change.

A passionate and proactive disability inclusion ally, Suzy co-chairs the Meaningful Business Disability Inclusion Circle, a virtual gathering for a global network of entrepreneurs and business leaders who are progressing the disability inclusion agenda. She loves all forms of cricket, Welsh rugby, long walks on the beach and pub quizzes.
Mike Gatting OBE
Former England cricketer, Mike Gatting OBE, played first-class cricket for 23 years and represented England for 18 of them. Between 1986 and 1988 he was captain for an impressive 23 test matches and although now retired from playing, he is still involved in the top level of the sport he spent his life competing in.
He played 79 tests and 92 one day internationals for England scoring more than 6,500 runs which included 11 centuries. During his two years as captain of England he led his country to a resounding victory in Australia during the 1986/87 Ashes tour.
In domestic cricket, Gatting made his Middlesex debut aged 18 and amassed more than 30,000 runs with 96 centuries. His spell as captain ran from 1983 to 1996 and he guided Middlesex to three county championship titles during that time.
A former President of the Lord's Taverners and MCC, Gatting is a long-standing member and supporter of the charity and a current serving member of the MCC World Cricket Committee.  
Caj Sohal
Caj Sohal has been a Lord's Taverner since 2019.
Caj was worked in sport broadcasting for over 25 years and is the Head of Sport of Channel 5 and Managing Director of Tenmonkeys, a production company that specialises in documentaries.
He's also closely involved with a number of sport for development projects and helped set up the European Football Clubs for Development Network which features over 100 professional clubs from Northampton Town to Barcelona. Caj wastes a lot of time following the (mis)fortunes of Nottingham Forest and Notts CCC.
Paul Walker
Paul Walker has practised as a solicitor for 43 years of which the last 33 years have been at top 100 law firm JMW Solicitors. Paul was elected as Managing Partner in 2014.
He has also been Chair of Trustees of the Cheshire children's charity, Friends for Leisure for the last 10 years, having been a trustee for 15 years. This charity provides leisure facilities and opportunities for around 300 young children with disabilities.
He has been a Taverner for 15 years of which he has spent the last five years as Chair of the North West region, and has been heavily involved in fund raising events in the area for many years. He also works closely with the Development Officers in the region and the programmes they provide.
He has been a proud member of Lancashire CCC for many years.
He said: "I became a trustee to help the Board understand more about how the regions work, the development of our relationship with the people delivering our programmes locally, as well as bringing in my experience of working with children with disabilities, and finally my 43 years of experience of working in the legal profession."
Gordon Kennedy
Gordon has been a Lords Taverner since 2006. He is president of Middlesex Region and hosts their annual Balloon Debate in The Long Room at Lords.
Gordon is an actor and a producer starring in BBC1's Robin Hood and ITV's The Halcyon whilst producing award winning comedies and dramas for Radio 4 through his production company Absolutely Productions.
He is MD of Absolutely which has been producing scripted comedy and drama for TV and Radio since 1988
He is a keen cricketer playing for The Taverners and Middlesex Over 60's and has coached rugby at London Wasps FC.
Alistair Subba Row
Alistair Subba Row has been a Trustee since 2017 having been involved with the Taverners for many years.
Alistair has over 35 years' experience in the world of Commercial Real Estate and is Executive Chairman of Farebrother, a London based firm of Chartered Surveyors founded in 1799. His focus is on delivering strategic advice to Landed Estates, commercial occupiers, property investors and developers. He is also a Freeman of the City of London, Company Surveyor to The Haberdashers Livery Company and Chairman of the Fleet Street Quarter Business Improvement District.
In his spare time Alistair is a keen golfer, cricket spectator at Arundel Castle Cricket Club and a member of the MCC Estates Committee at Lord's.
Richard White
Richard has been a Trustee and Honorary Treasurer since 2015.  Richard is a chartered accountant who was a partner in RSM (Baker Tilly) for some forty years.  He now works part time for RSM and has just completed his 50th year with the firm.
Richard is a trustee for a number of charitable Trusts, a keen golfer and sports watcher, particularly Ipswich Town and Essex Cricket.
Our Programmes
We work across the UK and beyond to provide inclusive and impactful cricket programmes, empowering young people with disabilities and from disadvantaged communities to develop the knowledge, skills, capabilities and confidence required to overcome the challenges of inequality, raise their aspirations and reach their potential.