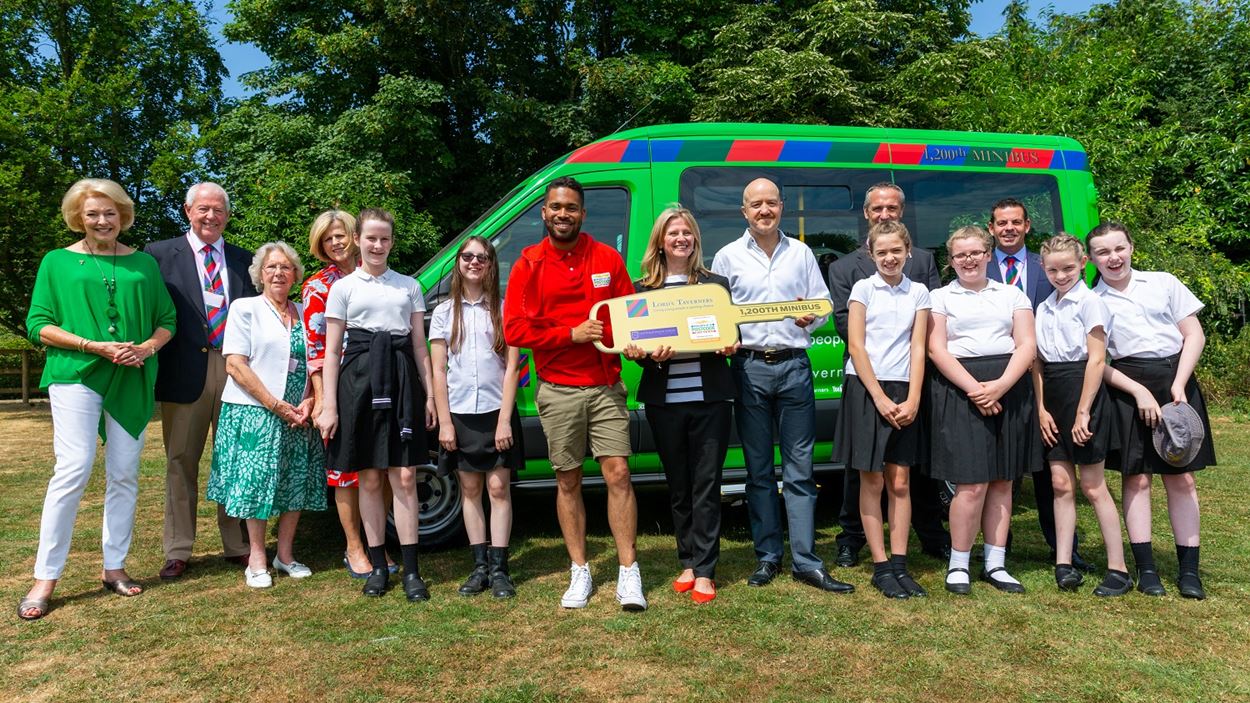 News
1,200th minibus presented to Limpsfield Grange
BBC Mock the Week star Andy Parsons and X-Factor contestant Danyl Johnson presented the 1,200th Lord's Taverners minibus to pupils at Limpsfield Grange School in Surrey which has been made possible thanks to the support from players of People's Postcode Lottery (PPL).
Comedian Parsons and PPL ambassador Johnson handed over the keys to the new accessible minibus to the school in Oxted which caters for girls aged 11-16 with communication and interaction difficulties and is the only school in the country that caters specifically for girls with autism.
The new minibus will give pupils vital access to the community which is key for the development of life and social skills.
"Our curriculum is based on the principles of ensuring the girls achieve well academically, communicate well and that they are independent and part of that is about making sure that the girls can learn outdoors," explained Sarah Wild, Head Teacher at Limpsfield Grange School, "So we're delighted with the minibus as it will help us deliver our specialised curriculum to some very vulnerable learners."
This minibus has been made possible thanks to the support of players of the PPL who play with their postcodes to win cash prizes while raising money for charities and good causes across Great Britain and internationally, and their support of the Lord's Taverners has helped provide the new minibus for Limpsfield Grange School.
Comedian Parsons added: "It's been lovely to look around the school and see the difference this bus will make to the pupils and help with their learning and we can look forward to hopefully presenting another 1,200 minibuses in the years to come."
Since 1976, the Lord's Taverners has placed 1,200 accessible minibuses across schools in the UK. The iconic green Lord's Taverners minibuses provide disadvantaged and disabled young people with the chance to engage with their local community by getting more access to the facilities on offer and build important life skills in the process.
Former X-Factor contestant and PPL ambassador Johnson added: "It's been such an amazing day to meet everyone. When you chat to the pupils and the teachers you really get to understand the impact this will make in the years to come at the school."
Paul Robin, Chief Executive of the Lord's Taverners, said: "Our minibuses provide a transport lifeline to schools and community groups and to have presented our 1,200th minibus is a fantastic achievement of which everyone connected with the charity can be very proud.
"The Lord's Taverners believes that sport and recreation are essential for all young people, regardless of ability or background. This minibus will help the Limpsfield Grange pupils to get out and enjoy new places and experiences that would previously have been inaccessible to them and we're delighted to be able to support the staff, parents and young people at the school.
"These buses make a real difference and since the programme began in 1976, we've been able to help thousands of young people across the UK and we're looking forward to helping thousands more in the future."
Stars present 1,200th minibus