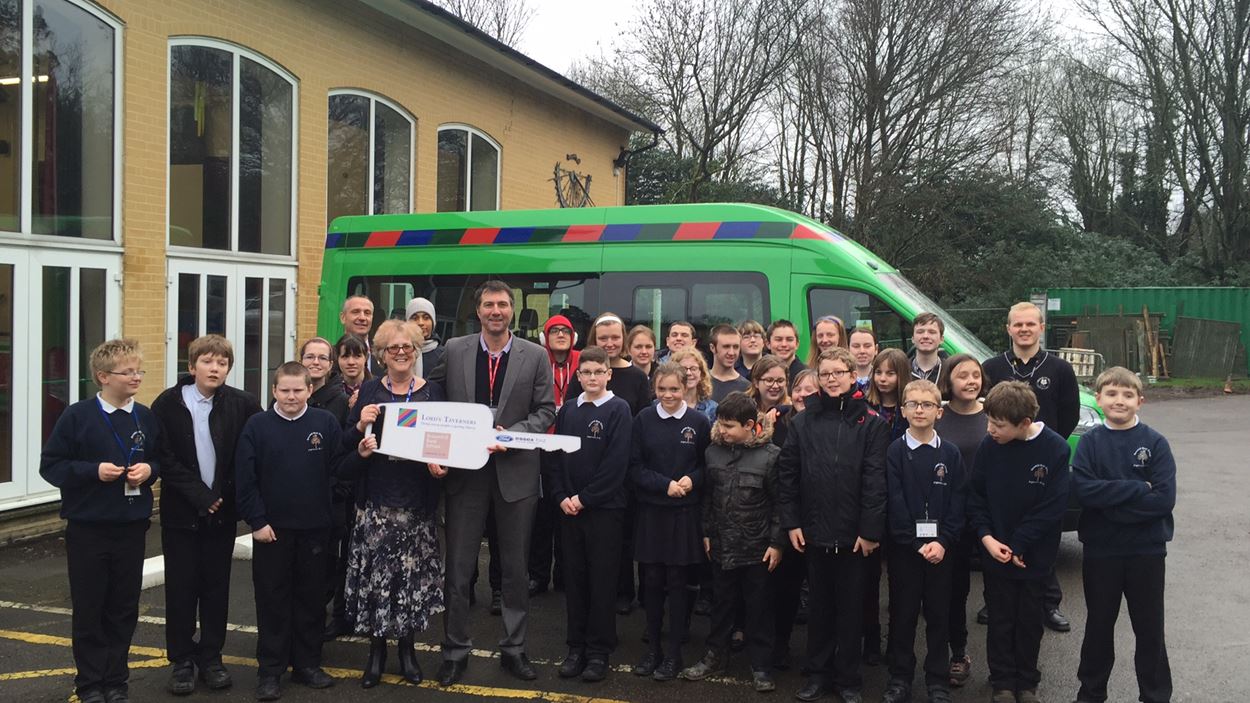 News
Broomhill Bank receives new minibus
Former England cricketer Ronnie Irani today presented staff and pupils at Broomhill Bank School in Tunbridge Wells with a new specially adapted minibus on behalf of the Lord's Taverners, kindly sponsored by local businessman Robin Stanton-Gleaves.
Since 1976, the Lord's Taverners has placed over 1,100 accessible minibuses across schools in the UK. This year marks the 40th anniversary of the first minibus giveaway, and to celebrate this, the charity will be giving away a record 40 minibuses in 2016. The iconic Lord's Taverners minibuses provide disadvantaged and disabled young people with the chance to engage with their local community by getting more access to the facilities on offer and build important life skills in the process.
Executive Headteacher Ms E Leitch commented: "We are thrilled to have been given a new minibus by the Lord's Taverners. This bus will be an invaluable tool for us; helping our pupils gain access to a range of local facilities, and ultimately providing them with the chance to grow and develop as people".
In September 2008, Broomhill Bank (Foundation) Special School was designated a co-educational day school for 5 to 19 year olds with Communication and Interaction needs (Autistic Spectrum and/or Specific Language Disorder) with a total roll of 80 pupils on site (aged 11-19) and the capacity to support a further 24 full time equivalent (FTE) children and young people on an outreach basis. In April 2014 the school was re-designated for an increased roll of 136 students, aged 11-19.
Robin Stanton-Gleaves, who sponsored the minibus, said: "I have long been an admirer of the fantastic work of the Lord's Taverners. Every child deserves the chance to engage in and enjoy sports and the charity do all they can to make this happen. It is great to be able to support both the charity and local young people by donating a new minibus to Broomhill Bank School. I know what a positive impact the minibuses have and I hope that this can contribute toward the prospects, independence and confidence of the pupils."
Paul Robin, Chief Executive of the Lord's Taverners, said: "The Lord's Taverners is delighted to present Broomhill Bank School with their new minibus, with many thanks to Robin Stanton-Gleaves. We aim to provide as many young people as possible with a sporting chance, and this minibus presentation marks the beginning of what promises to be a very special year, with a record 40 minibuses being donated on the 40th anniversary of when we provided the first one."