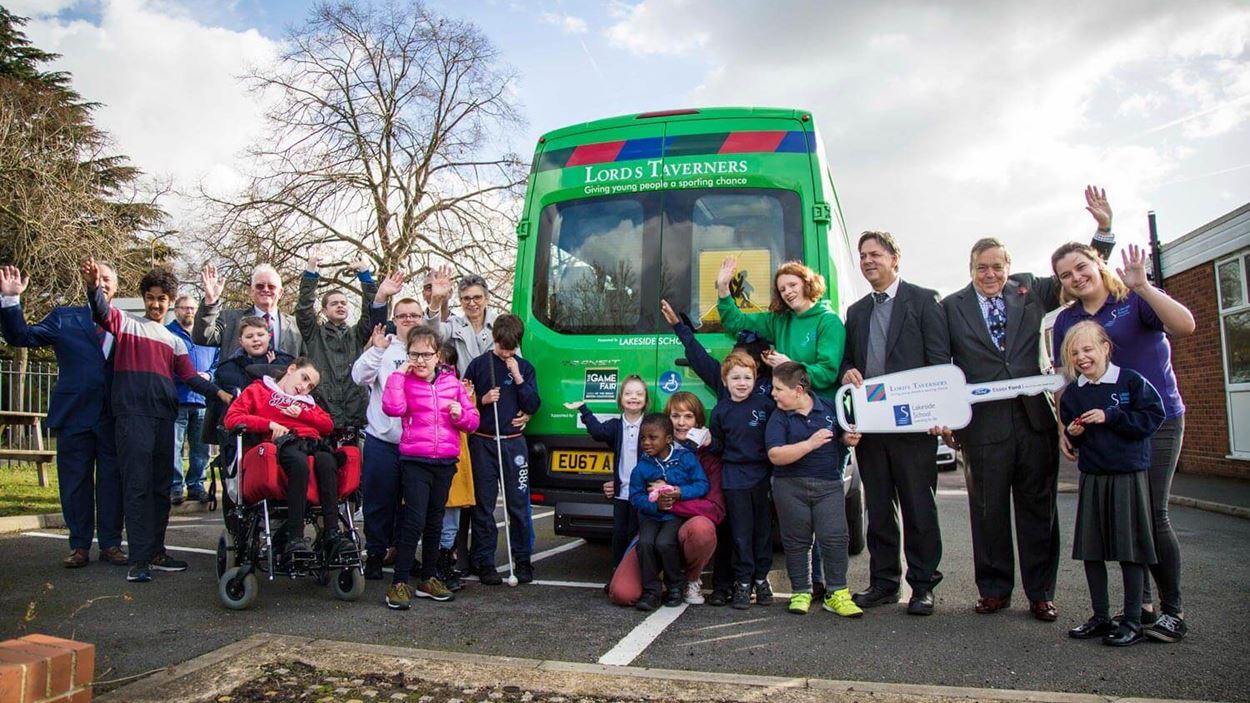 News
Celebrating 70 years of Giving
Throughout the week leading up to the charity's 70th birthday this Friday (3 July) we will be bringing you content from the past and present to celebrate the history and impact of the Lord's Taverners since it was formed in 1950. We'll have a website story a day plus regular content across all of our social media channels, starting with a brief history of the charity.
When the Lord's Taverners was formed in 1950, few would have imagined from the early years of supporting the National Playing Fields Association and iconic green minibuses, that 70 years later our cricket programmes alone would be impacting the lives of more than 12,000 young people across the UK every week.
But throughout our history, the values put in place by that like-minded group of actors and cricket enthusiasts, led by Lord's Taverner number one Martin Boddey, who gathered in the famous Tavern Pub at Lord's Cricket Ground have remained the same – the shared desire to help those less fortunate than themselves.
Tony Swainson, the Director of the Lord's Taverners from 1972-1992, fought against the idea of the Taverners remaining an exclusive celebrity club and helped turn it into a major charity when he initiated the idea of creating the regions to help increase fundraising, which led to the first ever minibus being donated in 1976.
In 1950, the charity had just 70 members but seven decades later, there are over 4,000 Taverners and our programmes are laying the foundations for a positive future for young people living with a disability and those living in areas with a higher level of poverty across the UK.
We're breaking down barriers and empowering thousands of young people to fulfil their potential, with cricket very much at the heart of the work we do – something we can all be proud of and hope will continue for another 70 years and beyond.
Over the course of the past 12 months we've been going through the archives and found thousands of photos from Taverners activity going back to the 1960s, which even includes photos of our Patron and Twelfth Man, HRH the Duke of Edinburgh, serving drinks to the Harlem Globetrotters before they played a Taverners team at the Presidents' Ball in the Grosvenor House Ballroom in 1963.
Numerous photos of minibus presentations have been digitised and Taverners XI scorecards going right back to the start of our celebrity XI have been searched through for use in our latest Long Room magazine and this, our anniversary week, to celebrate 70 years of the charity. Prince Charles once arrived to the wicket in his only Taverners XI game on horseback fully padded up for a match at RAF Cranwell, Kevin Keegan went out to bat with a football at his feet in Arundel, and on one occasion when a Taverner complained about not being picked in our celebrity XI the reply was "Sorry, we've got Len Hutton, Denis Compton and Jim Laker instead." There are quite a few stories to tell covering the history of our charity.
The charity has raised over £69.9m since 1950 and well set to pass the £70m mark in our 70th year. We've developed from being mainly a grant giving organisation to a charity that delivers life-changing national cricket programmes. Table cricket began in 2002, Wicketz was introduced in 2013 and Super 1s (initially called LTDCC) was launched in 2014.
This week we will look back through just some of the highlights while hearing from five of our former Presidents on their stand out memories from their time being involved with the charity.
Click here to view the special anniversary supplement from our 70th anniversary Long Room magazine.