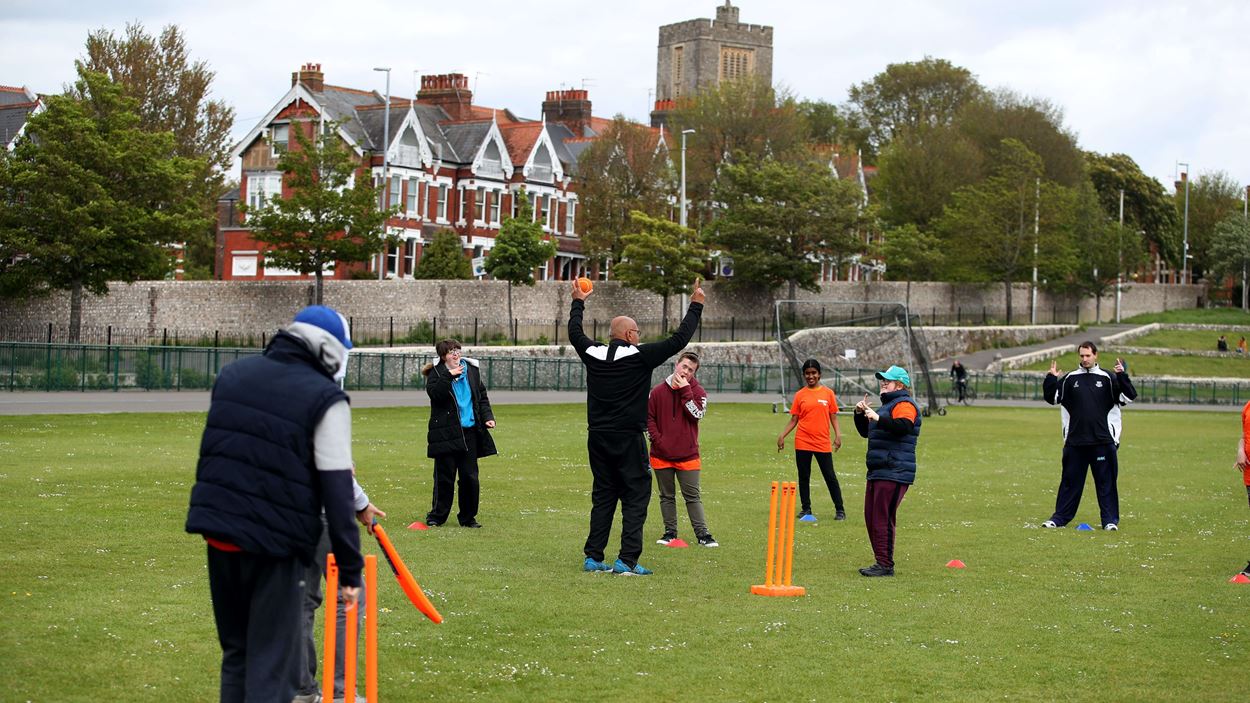 News
Cricket stars take on the Super 1s – Hundred Challenge
Players and staff from the England disability cricket squads are aiming to cover a combined distance of 500 miles as part of a fundraising challenge – the equivalent of visiting every ground hosting The Hundred.
In support of the Lord's Taverners Super 1s disability cricket programme, during July they will collectively walk, run, cycle or swim the distance between the eight grounds hosting the new short, fast format of cricket.
The fundraising challenge will provide the opportunity for more young people to access the life changing programmes that are already positively impacting lives in 20 counties and Scotland – with plans to increase this to all 39 counties by 2024.
"All of us that are involved in this challenge have been fortunate to experience life-changing opportunities that disability cricket has given us," explained Richard Hill, ECB Disability Cricket Competition Manager who thought up the challenge. "Whether we play, manage or administrate in our game, we are all very keen to ensure disability cricket continues to have a bright and exciting future. By committing to this challenge, we are hoping to raise as much as possible to help support the Lord's Taverners Super 1s programme.
"Super 1s creates great opportunities for people with disabilities to access our game and for all of us doing this challenge, we are living proof of its impact."
Twelve players and staff from the squads have already signed up for the challenge to cover the distance between Emirates Old Trafford, Emerald Headingley Stadium, Edgbaston, Trent Bridge, Sophia Gardens, Lord's, The Kia Oval and the Ageas Bowl.
Confirmed support staff and players taking part from across the physical disability, learning disability, visually impaired and deaf England squads include Hill, Angie Pittaway, Dan Reynaldo, Dan Bowser, Luke Riley, Matt Askin, Jake Oakes, Martin Henderson, Kester Sainsbury, John Cook, Cameron Cooper, Gareth Jones and Umesh Valjee.
Super 1s, a national programme delivered in conjunction with county cricket boards, gives young people living with a disability the chance to play regular, competitive cricket and giving participants the chance to interact with their peers and enjoy the benefits of playing sport.
But the programme is more than just about playing cricket, it improves physical and mental well-being, gives a sense of belonging and allows participants to make friends and gain skills for life such as confidence and independence.
Through its cricket programmes, the Lord's Taverners breaks down barriers and empowers disadvantaged and disabled young people to fulfil their potential and build life skills.
Please support the players and staff taking part in this challenge and help to make a difference to disadvantaged and disabled young people throughout the UK.
A donation of:
• £10 will allow a child to attend 4 weekly coaching sessions
• £15 will allow a child to attend 4 weekly coaching session and have access to a local competition
• £20 will allow one child to attend 4 weekly sessions and have access to a local competition and lifestyle workshop
• £120 will allow one child to attend one weekly session for a year
• £500 will allow one child to attend an outward bound residential weekend
Click here to donate.
If you would like any further information about the challenge or the Lord's Taverners please get in touch with Heidi Coleman by emailing her at Heidi.Coleman@lordstaverners.org
Super 1s Hundred Challenge