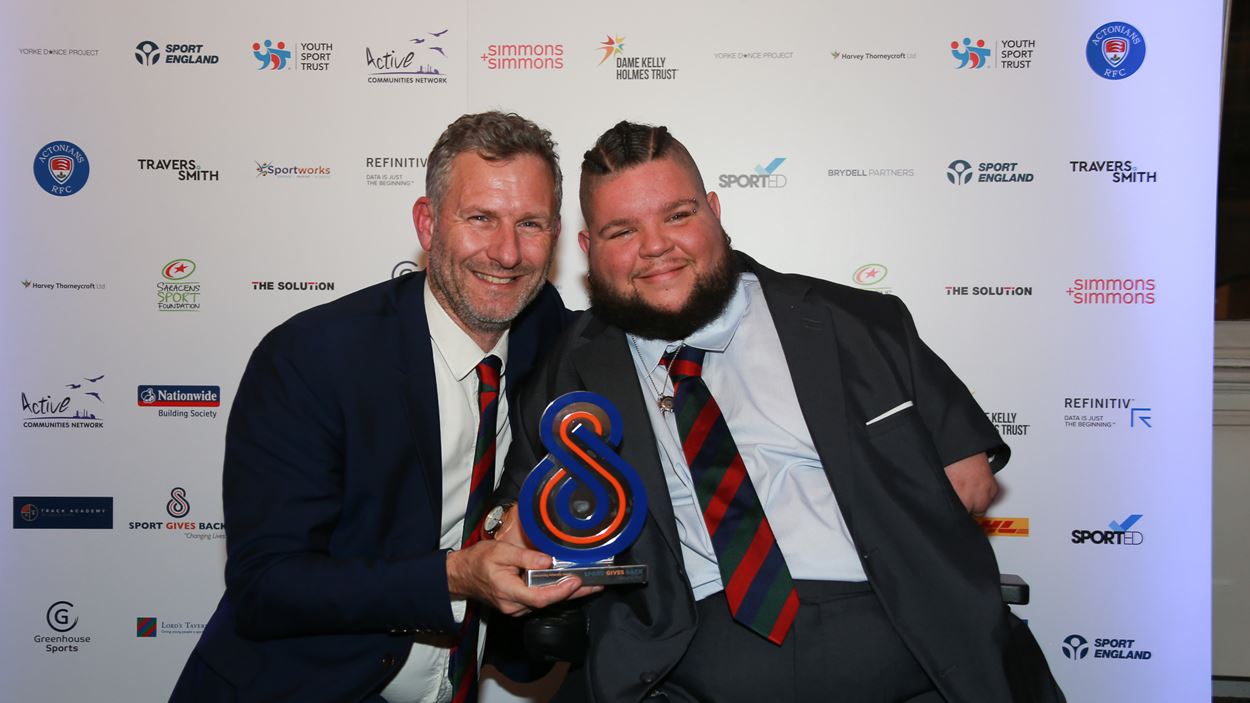 News
Super 1s coach collects award on national TV
Former Super 1s participant, now coach Sam Alderson, has been recognised for the work he has done transforming lives through sport across the country, winning the overcoming adversity award - and you can watch him receive his award on ITV on Tuesday 21 July at 10:45pm.
Sam is among a number of grass roots heroes who help transform the lives of others through sport and they will receive much-deserved national attention as the Sport Gives Back awards are screened on ITV.
The inaugural awards ceremony, which was filmed at the Royal Institution in London's Mayfair, in March.
The programme will see charities from across the UK presenting awards to individuals and organisations who work tirelessly to help others.
Sam, from Bexley, south-east London, has a rare genetic condition called TAR (thrombocytopenia-absent radius) syndrome, which means he has a blood disorder that disrupts clotting and does not have a radius bone in either forearm.
He is a wheelchair user but none of this has stopped him from first playing cricket, and most recently, coaching the game. Originally a participant on the Super 1s national disability cricket programme in Bexley (Kent), he is now qualified a level two coach.
For Sam even making a cup of tea is difficult. Sam's determination to face life head on with a smile on his face make him an inspiration for the cricket team he played with and now coaches. Sam never gives up, determined to help other young people – he shows them that if he can do it, they can. If cricket is a tool to change lives for the better, Sam is the embodiment of it.
Viewers will also hear from Lord Sebastian Coe, Dame Kelly Holmes and Daley Thompson CBE on their own experiences of the transformative nature of sport. Sporting luminaries Lee Dixon, Jason Robinson, Greg Rusedski and Olympic hockey champion Crista Cullen MBE also lent their support to the event, while award presenters include Dame Darcey Bussell and comedian Adam Hills.
The full list of award winners are:
Hannah Brooman (Active Communities Network, Birmingham)
Liz Johnson (Dame Kelly Holmes Trust, Belfast)
St Paul's Way Trust School (Greenhouse Sports, East London)
Sam Alderson (Lord's Taverners, South-East London)
John Hambly (The Samson Centre for Multiple Sclerosis, Surrey)
Tony Barclay (Sported, Belfast/Co Antrim)
Shotley & Benfieldside Tennis Club (Sport Works, Durham)
Laura Dredger (Yorke Dance Project, West London)
Saadia Abubaker (Youth Sport Trust, Swansea)
The event was sponsored by Actonians RFC, Bride Hall Group, British Athletics, DHL, JR Sports Stars, Nationwide Building Society, Refinitiv, Simmons & Simmons, Sport England and Travers Smith.
The Sport Gives Back Awards will be broadcast on ITV at 10:45pm on Tuesday 21 July.