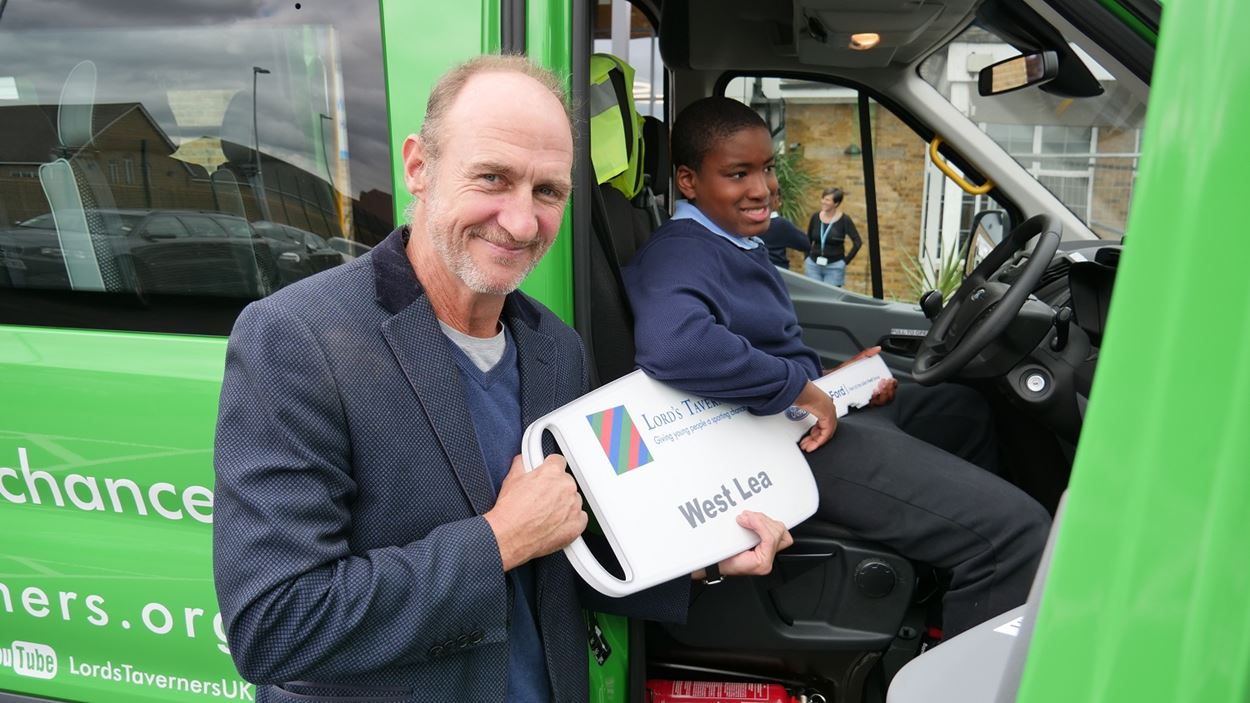 News
TV star presents West Lea minibus
Stuart Bowman, who starred in popular BBC drama Bodyguard, was on hand in Edmonton, London to present staff and pupils at West Lea Special School with their new wheelchair accessible minibus on behalf of the Lord's Taverners.
West Lea Special School caters for 144 young people with a wide range of physical disabilities and special educational needs. The new specially adapted minibus is essential for students learning as it enables them to access both of West Lea's campus sites, located three miles apart. It will also open up the local community, visits to which are crucial in the development of the pupils' social and life skills. The trips will help pupils learn essential life skills for future independent living while also enabling them to access sports and recreation facilities within their community.
The donation of this new minibus has been made possible thanks to the continued fundraising efforts of Waitrose. Through their community matters scheme and a number of challenge events including marathons, half-marathons, bike rides and cake sales to name a few, 20 London branches have raised nearly £20,000 to put the new minibus on the road for the West Lea youngsters. This is the 11th Lord's Taverners minibus to be presented thanks to the efforts of Waitrose and the partnership is set to keep improving the lives of young people in local communities with more minibuses on the way.
Sue Tripp, Headteacher at West Lea Special School, said: "It's fantastic, we're really lucky that the Lord's Taverners and Waitrose have given us this bus. It adds to our small fleet, and it will be used for sporting activities as we have a lot of teams competing in various activities. We'll use it to visit the theatre and for outdoor learning as well."
Stuart Bowman, added: "What a pleasure it has been to come to this fabulous school to be a part of giving this minibus to such a deserving school. It's been an honour and a privilege, it's a delightful thing to be a part of."
Brent Cross Waitrose Manager, Michael Hynes, commented: "We continue to support the Lord's Taverners because we've seen the difference the vehicles make to disabled young people. It's fantastic that we've been able to contribute towards the donation of this minibus for West Lea School and to see the children enjoy the new minibus first-hand is brilliant and motivates us to fundraise for more vehicles in the future."
Chief Executive of the Lord's Taverners, Paul Robin, added: "The Lord's Taverners believes that sport and recreation are essential for all young people, regardless of ability or background. This minibus will help the children to get out and enjoy new places and experiences in London and beyond. We are proud to support the staff, parents and young people of West Lea Special School and would like to thank Waitrose for their generous support."