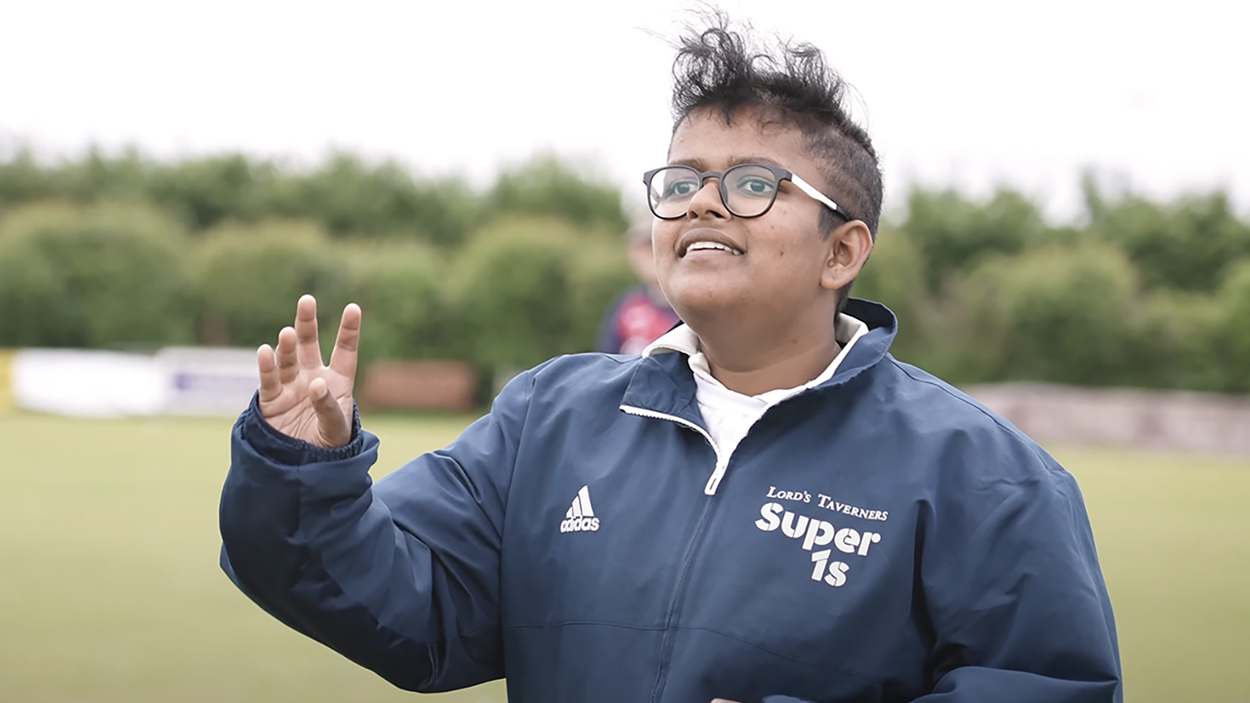 News
A day in the life of Shravani
Shravani (20) participates in the Super 1s programme, attending weekly sessions at the Stroud hub in Gloucestershire, which is run by Disability Development Officer, Jeanette Tate and the Gloucestershire Cricket Foundation. In July this year, Shravani won an 'Inspire Award' presented to those who have encapsulated what Super 1s is all about.
She gives us incredible insight into a day in her life and the challenges she faces on a daily basis living with Asperger's Syndrome, anxiety and depression and how she has now begun using her own personal experiences to positively impact the lives of young people around her, using cricket as a force for good.
Alarm goes off at 07:30. I know it's too early so I hit snooze. I never get up at this time so roll over and think about my day ahead. I'm living at the Novalis Trust which offers supported living in a house with a few others.
At 08:00 a cup of tea arrives, as does a reminder to get up. I'm at college this morning in Stroud on an internship course which is designed to help students get full time work. I've remembered there is someone coming in today to talk about writing a CV. I'm feeling more anxious as I don't like meeting new people.
I need to move. I know I need to go to college as it will help me be independent. It's a means to an end, as I hope by the end of the year to realise my goal of independence.
I'm feeling as if it's too much today and I know my social anxiety is high. I'm in the kitchen where staff, other students and Mark (Senior Teacher with additional responsibilities for healthy lifestyles at the Novalis Trust) are chatting and moving around. I have my earphones in and listen to music to try and block everything out.
It's 09:30 and time to go. Mark is driving and chatting, whilst I try to zone out. If my anxiety is really high and I can't express myself, he would come up to class with me, but today I can do this. I get dropped off at college and walk up to class.
I'm quiet when I arrive. There's only a few there who know that if I'm quiet I'm anxious and they need to give me time.
10:00 and the first lesson is budgeting. The man coming in to talk to us has postponed so my anxiety lessens and I can listen.
11:15 and it's break time, most of the class go down to the canteen. I've been there in the past but find that there are too many people and too much noise. I remain in the classroom and sit on the sofa. I dozed off and missed the second lesson.
In the summer, when I had brain surgery, they changed my medication. Previously I had tablets which helped me sleep, now I don't. Other medication I take should do the same thing, but not always.
I felt better after my sleep but had to apologise a lot and have no idea what I missed.
At 13:00, Mark is waiting to collect me and we go to the offices to meet others and have lunch. I'm chatty, feeling better after my sleep and ready for the rest of the day.
After lunch, I meet my psychologist. I've been meeting with them for eight years and we talk about everything. Sometimes it's hard, others not so much. It helps me understand myself.
Around 14:30 I catch the bus back to the house I live in. It's late and I get frustrated and start walking to the next stop. I can see on the app when the bus is due. I like things to run smoothly but when they don't it is something I need to learn to cope with. The bus arrives as I reach the next stop, and I travel back to the house.
The good news is my bus pass has turned up. I didn't think I could get one but found I qualify for one and applied. I will now be able to get to activities on my own when needed once it is delivered by my parents. Great news, and relief as it means more independence.
16:00 I get dropped off at the gym by the staff from the house. The gym is busier than usual, as it is after school, which heightens my sensitivity to noise. But I have a routine which I run through before walking to cricket.  
Cricket is my happy place, and it unwinds me. I forget everything and I become a 'chilled bean'. I'm not saying that I don't get frustrated when my bowling is poor, but I can work through it, and chill.
Cricket means the world to me, it's the only thing that keeps me going.
If I didn't have someone to look up to like Naomi (an apprentice at the Gloucestershire Cricket Foundation who has been a volunteer coach at the Stroud Super 1s hub for the past year and played for the Gloucestershire women's 1st XI and women's DPL team), I don't think I would have found the passion and love for cricket again.
Where Naomi is at, is where I want to be. My inspiration comes from others even though I won the Super 1s 'Inspire Award'.
Also, regular encouragement from Becky (Gloucestershire Disability Cricket Head Coach who also helps with Super 1s sessions) and Jeanette in reminding me that I am good and doing well keeps me going.
Inspire Awards
Shravani's Story