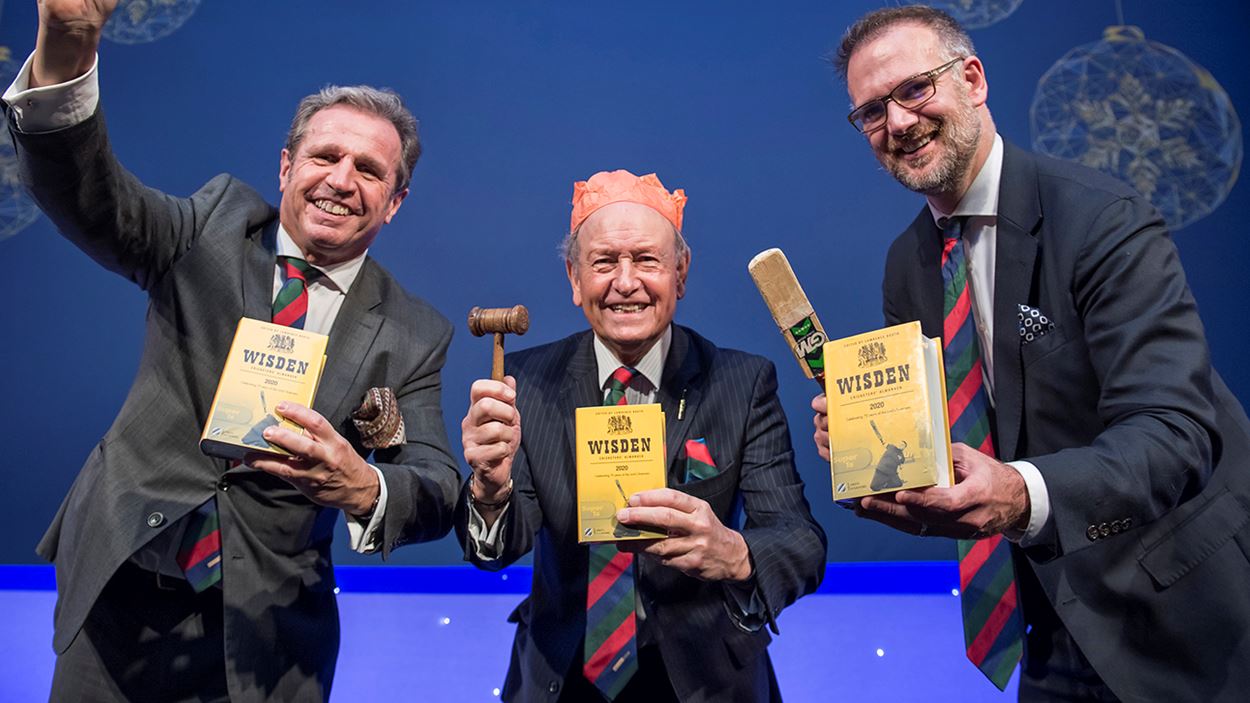 News
Devoted cricket fan's almanacks set to raise thousands
A lifelong cricket fan has donated his collection of Wisden Cricketers Almanacks to be sold at a special cricket auction in January in support of the Lord's Taverners.
The late Derek Williams – a man who loved the game but could not participate due to being born with severe disabilities- wanted his lifelong passion for cricket to help others.
Consequently, he has donated some of his estate to the Lord's Taverners, the UK's leading youth cricket and disability sports charity.
Some of the funds will be raised at a cricket auction, a celebration of Derek's life and cricket archive at Hansons Auctioneers on January 22, 2022. It will include Derek's collection of Wisden Cricketers Almanacks dating back to 1878, together worth in excess of £10,000.
Hansons Owner Charles Hanson, pictured above with Richard Madley and Charlie Ross at the recent Lord's Taverners lunch, said: "We feel privileged to handle this important collection and to play our part in enabling Derek's wishes to be honoured. Hansons will be selling his group of Wisden Cricketers Almanacks to benefit three charities – Age Concern, Cancer UK and The Lord's Taverners.  
"The Wisden's run from 1878-2012 and include original hardbacks from 1903, 1904, 1905, 1906, 1910 and 1942.  In all, the collection could be worth around £10,000."
Derek, from Caerleon, near Newport, was born severely disabled in 1935 and spent his life on crutches. Although unable to play the game he loved he devoted his free time to the Caerleon Cricket Club, where he acted as scorer for much of his life. He died in November 2020.
The items have been catalogued by renowned auctioneer of cricket items Richard Madley. He said: "Because Derek was such a great admirer of the Lord's Taverners' work, he decided to leave a third of his estate to this great cause. It helps less able youngsters participate in this wonderful game. Derek could certainly relate to their plight. Perhaps he considered how different his life might have been if the Lord's Taverners had existed when he was a child."
The Lord's Taverners cricket programmes break down barriers and empower disadvantaged and disabled young people to fulfil their potential and build life skills. The charity supports some of the most marginalised and at-risk young people in the UK using sport and recreation to build links between communities and encouraging groups to play sport together.
It was founded in 1950 and past presidents include the likes of The Duke of Edinburgh, Eric Morecambe, Sir Terry Wogan, Sir Tim Rice and more recently, Sir Michael Parkinson and Mike Gatting with David Gower being the current President – himself a Wisden Cricketer of the Year in 1979.
Former England cricket captain Gower said: "It was a huge honour to be named a Wisden Cricketer of the Year and the book with its now famous yellow cover is recognised around the world, so this really is a remarkable collection. The young people we support on our cricket programmes will be eternally grateful to Derek for remembering the Lord's Taverners in his estate and the sale of this fantastic collection of books will ensure his legacy lives on in future years as part of our life-changing work disadvantaged and disabled young people."
The Derek Williams Wisden Cricketers Almanacks Collection will be offered at Hansons Auctioneers on January 22, 2022. 
To find out more email service@hansonsauctioneers.co.uk. Catalogue: www.hansonslive.co.uk – due live December 21.