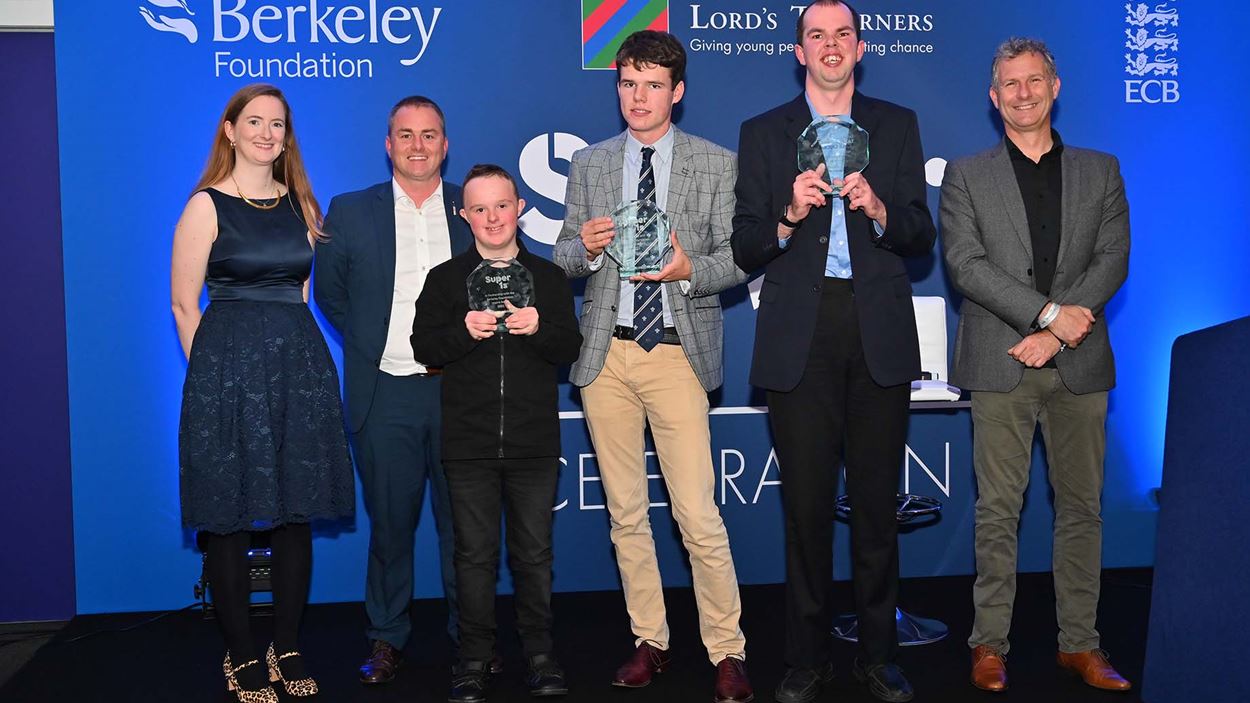 News
It's opened up the world for him
"I'm surprised he's not done a victory lap a

round the room." Sarah Hiley l

aughs as s

he recalls her son George's acceptance of his S

uper 1s Inspire award. It was one of t

hose moments; one that clearly thrilled h

im and all who saw it. The broadest sm

ile skips across Sarah's face.
She – and 21-year-old George – have every right to be delighted. George, after all, was the child Sarah and husband Matthew were told might never walk and didn't speak until he was six. The child whose ultra-rare genetic condition baffled doctors – "he had every test under the sun," says Matthew. There was no definitive explanation until December 2019's diagnosis of Malan syndrome, a growth disorder with only 150 cases currently recorded worldwide. 
George was also the sports mad child who always wanted to be a sports coach. Now, thanks to the Taverners, he is. For two days a week – proudly using his trusty willow, a custom-made bat named 'The Beast' – George helps out on the Oxford schools beat with Super 1s Development Officer Richard Giles. 
The mentor – who met George through table cricket at his college in Abingdon - describes his protégé in reverential terms. Each, it seems, has taught the other a lot. No wonder, then, as George holds his trophy proudly aloft, beaming his own Cheshire cat grin, one half-expects to hear the Rocky theme kick in before a high-fiving circuit of the Nursery Pavilion. 
In the end, he settles for a couple of fist bumps before returning to his seat, still smiling. George – and fellow award winners James Grindrod (20) and Elliot Wembridge (14) – have come such a long way already. 
On this mild mid-October evening, a full house has gathered at Lord's to celebrate the quiet miracles worked by the Taverners in transforming the lives of this trio, their families, and thousands more like them through cricket. Beginning with initial sessions in Kent and Essex back in 2013, national disability cricket programme Super 1s' reach now stretches from Devon to Perthshire. This thriving network of 100-plus hubs offers meaningful sporting engagement for 12-25-year-olds, regardless of ability – in which many of the current volunteers are, or were in George and James' case, participants themselves. 
Much has changed for us all since Covid-19 first cast its shadow. Tonight's appreciation feels almost an escape of sorts: tiptoeing tentatively back towards a recognisable world. That re-emergence offers a neat metaphor to explain the power of Super 1s, especially for those lucky enough to take self-determinism for granted. Table cricket, where George and Elliot took their fledgling steps, and Super 1s offer a chance to be on the inside, rather than outside looking in. Here is a gateway to a brighter world: one of can-do, not can't, encouragement, not dissuasion. 
As James' mother, Jane observes, "it's not just the cricket, there's so much more to it than that – it's a wraparound package." She pauses, choosing the best way to reflect on James' progress, developing confidence – and the value it has added to family life. "It's easy to feel, well, different, basically, so it's a credit both to Lord's Taverners and Surrey Cricket Foundation for running such good programmes to make it inclusive, friendly and supportive. It's really good. Really, really good," she adds. "Cricket has brought James out of his shell, given him an opportunity that I don't think he would have had in a different way." 
She now looks forward to a time where James, who is on the autism spectrum, will be able to live independently. That wasn't always the case. "It's a boy becoming a man," she says. 
Your correspondent first met James three years ago and barely equates that shy character for whom eye contact was clearly tough, with the young man who now talks fluently and with such infectious enthusiasm. He has graduated from participation in Super 1s, to coaching on it, through to a year of work-experience one day a week in the Taverners' office. 
He subsequently found himself a year-long contract in a school, where he spent lockdown as a key worker. "It makes me feel proud," he says. "It felt quite special watching the video [a montage of his Taverners' story] – remarkable, seeing how much I've gone through from being a boy in year seven, to a 20-year-old now known as a sort of super role model for Super 1s." 
While James hails from a cricketing background – dad David still turns out in league cricket in Surrey, and Jane recalls James playing when he was "knee-high to a daisy" - Elliot and George discovered the passion for the game themselves. 
"That's something I'm really proud of for George – he has done this on his own merit, rather than it being something we've driven, or tried to push him into," says Sarah. All have found great nourishment through friendship, increased independence and the emotional uplift cricket provides. During lockdown, George produced videos to send out to other Super 1s participants, doing his bit to help keep spirits up in isolation. "Doing that gave him a purpose each week – and then getting the feedback from his team was really great," says Sarah. "He loved that." 
Ian Martin, ECB's Head of Disability Cricket and a guest at the awards night, often repeats a line that sums up what's possible when people are really seen, namely that your altitude should be defined by your attitude, not your aptitude. These three are proof of that: fostered through the framework and structure of cricket, they have blossomed. 
For Louise Wembridge, Elliot's mother, that's a priceless commodity for a parent. "What I find is that in relation to the game, everybody is very supportive," she says. "They're still competitive, as in they want to do well, but they're not competitive as in: 'I want to do better than you'. When you get to watch children play as a group, you get a sense of happiness and a sense of what play really is. Non-disabled people can forget that, but they take it back to its roots." 
Super 1s helped light the touchpaper for a flame that burns brightly for Elliot. While he loves the game, he loves the glue binding it all together – teamwork, friendship, a common goal. Louise has been astonished by the changes she's seen in Elliot through cricket, which she says, "opened up the world for him." 
"I'm so proud of him as a mum – he's a very happy young man, who inspires me." She's no less thrilled it was something he found off his own bat, pardon the pun. "I was told at his school; he was in mainstream at the time. They said, he really loves cricket – it'd be lovely if he could do some more. I said: 'Does he?' I didn't even know! Then some of the other mums I knew said: 'Come to Super 1s, it's really good.' I thought, let's give it a try." 
At Elliot's first session back in 2019 he was the only child present - "they were loads older and bigger than him" - but stuck it out. Any concerns Louise had about him fitting in were swiftly allayed. "They were so lovely, really supportive and patient," she recalls. "And then his coach Jeanette [Tate] began to do another promotion, to encourage younger children to come." 
Since then, with Elliot a mainstay helping new recruits, such as his friend Aaron, the sessions have become busy enough to split along age lines. "There were nine or ten kids there this week," Louise adds. 
"So we've gone from one – Elliot – to ten. It's amazing what Jeanette has done." The restart of Super 1s has proved particularly beneficial for Elliot, who lives with Down's syndrome and hypotonia (decreased muscle tone). Asked how tough lockdown was, Louise rolls her eyes and replies with real emphasis: "extremely." Elliot's father and brother are both key workers, so continued with their jobs. "It was just Elliot and I, really," she says. 
Though there were Super 1s zoom sessions, Elliot found those quite pressured. The family home had also been turned upside down by ongoing building work that started before the initial lockdown in spring 2020. An extra layer of difficulty comes through Elliot's complex physical needs that couldn't be met by daily walks, which put pressure on his ankles. 
"His muscles are super-flexible, but they're like an elastic band that's overstretched," Louise adds. "So, for him, doing sport builds that up and strengthens it, but what would take a few weeks or a month for others [to regress], for him it's days, so we have to do something every week. He would do two sessions of cricket a week if he could."  
Whatever the future may hold for this inspirational trio – Elliot starts his Duke of Edinburgh Award next term, George and James will further their coaching hopes – this was a special night, where the warmth in the room was tangible. On a Lord's tour before the evening's ceremony, the media centre's crow's-nest view proved a hugely popular attraction. 
It was Elliot's first trip to a major cricket stadium: a day to remember. Louise notes the joy in seeing his reaction, that expansion of his regular horizons: the size of Lord's – seeing a cricket pitch with stands around it – the bowling machines in the indoor school... "I like bowling," says Elliot. "I get a lot of bowleds." 
As Louise puts it, it's all about the opportunity to grow – the recommencement of Super 1s was, she says crucial. "Our lifeline – when everything is shut down, you literally have nothing. It sounds dramatic to say you have nothing, but he literally only had us." 
"People don't quite realise how difficult it can be at home, how much they have to struggle, and how much they want to be like the others," she adds. "These little achievements, to everybody else they're ice cubes, but to us they're icebergs." 
It's a beautiful analogy, summing up the difference made by shining a light into less-lit corners. "Often our children get missed," Louise says. "It's very hard for them to be recognised. In the competitive world we live in, it's hard for them to be winners, or to be seen as the winners that they actually are. He's my winner!" 
"I've always said it's far bigger than the sport itself," says Sarah Hiley. "It's really given George a genuine purpose – he's not the one receiving, he's coaching, owning it. He passionately believes: 'I am the coach'." She laughs again. "He almost has a swagger. When he was a lot younger, he didn't always think like that, he was quite anxious, lacked confidence." 
Home is where the heart is. Fittingly, at the home of cricket, these three lads with cricket so close to their own hearts, bowled us all over. 
Steve Morgan