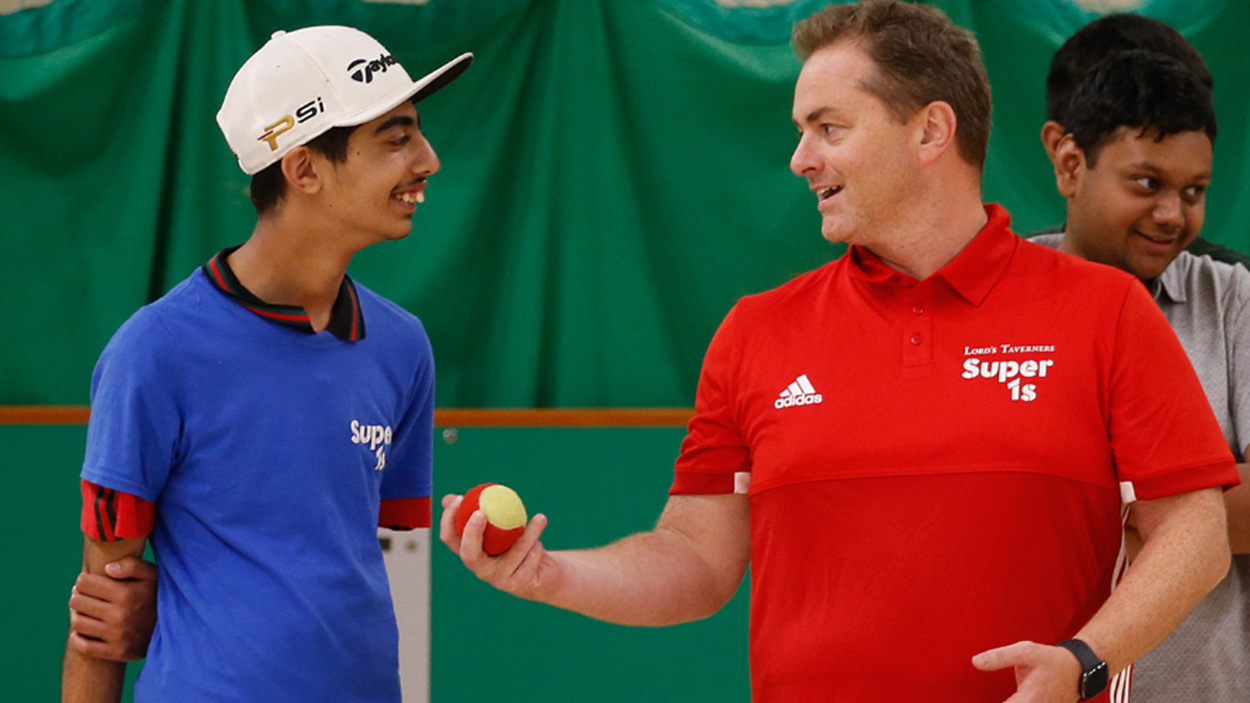 News
An update from CEO, Mark Curtin
Hello fellow Taverners,
I hope you've all been enjoying the start to this summer of Ashes cricket. It's been an exciting start to both the women's and men's Ashes series in what is a big summer for the game for many reasons, with a great deal of spotlight on the sport. As well as the coverage of the Ashes I am sure many of you will have seen the hard hitting ICEC report that was published this week. This was a very challenging, and in many aspects, harrowing read for all and our thoughts of course turn to any person who has faced discrimination, something that must be stamped out with no exception. Along with our partners at ACE and Chance to Shine we felt it very important to publish a joint response immediately on the day of publication to acknowledge this and make our position clear that we take our role in responding to it very seriously.
We have had feedback this week from many people and organisations acknowledging our statement and stating that it is important that as a recognised and credible leading organisation in the cricket community, that the Lord's Taverners plays its role in ensuring the game is a game for everyone in all aspects. This also includes people from those communities who were not considered or subject to focus in the report itself, most notably people who live with a disability, which of course is a significant primary focus of much of our work.
We work very hard to ensure that all people regardless of background or circumstances can access, enjoy cricket and be empowered to overcome the challenges they face from the skills and experiences they gain by being involved in the game. The ICEC report recommended that over the next three months and beyond the ECB should lead a whole game response to its findings and recommendations. Therefore, we have already been actively engaged with the ECB this week and committed to work with them and all partner organisations to play our role in engaging in a collaborative response to start making the changes required as outlined in the report, particularly at grassroots and community level where our work is focused.
The aim is to ensure that listening and learning takes place and informs a robust and meaningful action plan for the 40 plus recommendations the ICEC report has made. This will present many challenges for us as an organisation, but it also presents a significant number of opportunities for us to further cement our place as a leading force for good in the game for those people who face prejudice and discrimination of any sort by demonstrating that our work can play a big part in the solution to the issues raised by the report. I hope as members and supporters of the Lord's Taverners you will join myself, the staff, our Trustees, Development Officers, participants and their families in making the commitment to develop and improve our own organisation so we can play our role in creating a better game and culture around it.  
Focusing on some of our inclusive cricket activity… it was incredible to be back at our National Table Cricket Finals Day at Lord's with over 80 young people representing 10 different schools from across England and Scotland. It was a brilliant showcase of the impact the game can have on young people living with a disability and participants playing on the day, not only got to play at the home of cricket but also had the chance to meet and play with former England Captain David Gower and current fast bowler Reece Topley.
Congratulations to everyone who qualified for finals day and special mentions go to first time winners Wirral Grammar School (who won title off the last ball!) and to Falkirk High School who were on the wrong end of some flight cancellations and delays but were so determined to be part of Finals Day somehow they still decided to try and get to Lord's, making it just in time for the end of day presentations and a deserved standing ovation. Thank you to everyone who came to support on the day and to Gordon Kennedy for being a very entertaining host/commentator/presenter.
Looking back on the past month of Taverners fundraisers, it's been brilliant to see an array of incredible events being attended by hundreds of Taverners members and supporters across the country. We held a special Eve of Ashes Dinner in Birmingham alongside the Bob Willis Fund ahead of the men's first Test at Edgbaston - thank you to our friends at Champions and West Midlands committee member, Tim Munton for bringing that event together with our team.
Thank you to long-term supporter Tony Wall and supporters at P&G group for putting on an amazing golf day in Eversham, which was also supported by proud Taverner Neal Radford. We also had a splendid day at the spectacular Bamburgh Castle with our friends from the Wooden Spoon rugby charity and our long-standing Cholmondeley Castle event, organised by Peter Willis, Paul Walker and Nick Hancock, was a big success. We're most grateful to all three of you for continuing to deliver one of the biggest events in the Taverners calendar.
As is tradition in an English Ashes year, our friends from the Yankee Wanderers put on an amazing golf day and dinner at Hanbury Manor with special guest Justin Langer. Thank you to Michael Greathead and the Wanderers for nearly 20 years of invaluable charity support.
At this point I would like to make a very special thank you to our fabulous President David Gower for tirelessly attending so many of these events, meeting members and entertaining us all with his brilliant hosting and stories about the Ashes with some incredible guests. At events during this past month, those who have provided great entertainment at our events include Mark Nicholas, Mark Taylor, Ricky Ponting, Justin Langer and Mel Jones as well as Nasser Hussein, Mike Atherton and Eoin Morgan, to name just a few… What an incredible month it's been!
Looking forward, we have our Super 1s awards and Development Officers conference at the Oval coming up in July and the start of the school holidays means that festival season is around the corner, with two Super 1s residentials and three Wicketz festivals all scheduled for the next two months in what will be a very busy and impactful summer ahead.
Enjoy the rest of the men's and women's ashes and hopefully I'll see you all at Tavs events throughout the summer months.
Kind regards,
Mark