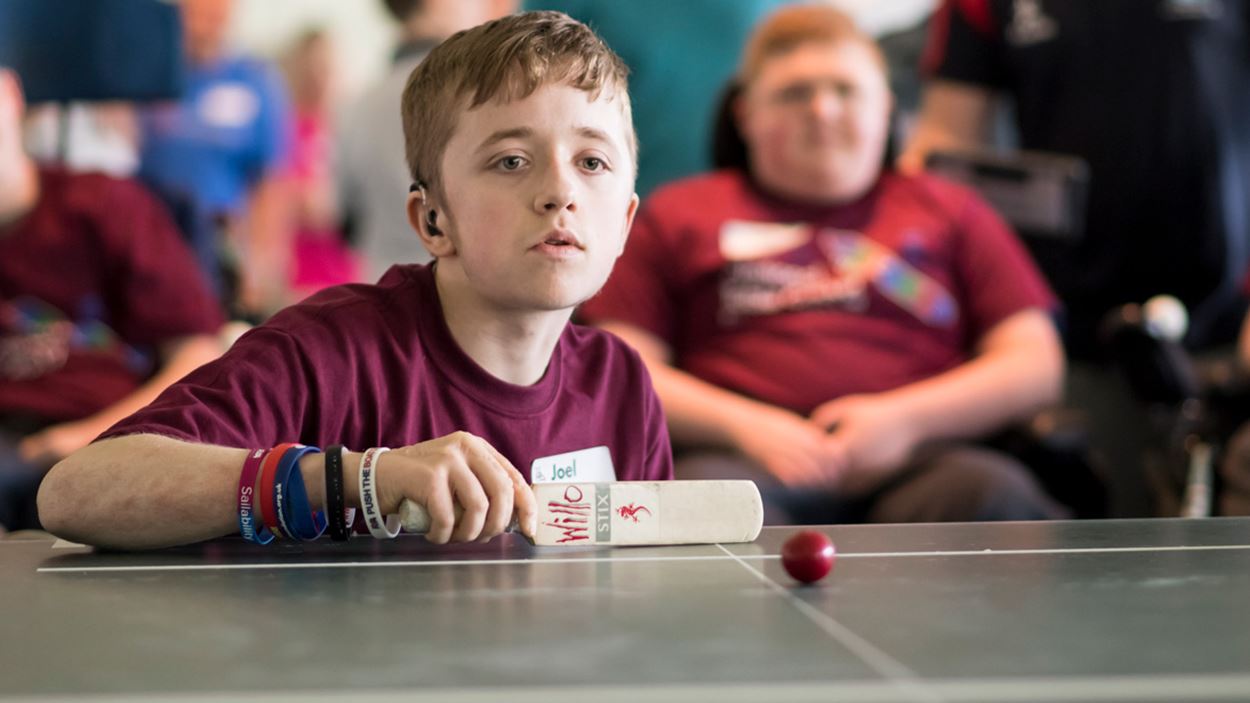 News
Joel Hales-Waller: A life less ordinary
It's tempting to describe Joel Hales-Waller as a typical sports-mad 16 year-old. And true though that is, it would be damning him with faint praise. Not many kids play five sports: wheelchair basketball, table cricket, swimming, powerchair football and water polo all currently compete for Joel's attentions alongside his GCSE revision.
When we meet at the Lord's Taverners West Midlands table cricket finals day at Edgbaston – where he is representing his school, and reigning national champions Wilson Stuart – Joel suddenly recalls while listing his sporting ventures that he has a basketball session that evening.
It's little wonder it's slipped his mind. It's remarkable that he can find the time to try and make good on the predicted grades that should guarantee him a place on – surprise, surprise – a sports-coaching course at Sandwell College in September. It might well explain his decision to ditch tennis as another string to his sporting bow. There just weren't enough hours in the week.
But what really sets Joel apart from the pack is that when, rather than if, he takes up that college place, he will be the first wheelchair user on the course. If his ultimate sporting dream of becoming a Paralympic swimmer is still a way off yet, having swum so determinedly against the tide all his life you'd be brave or stupid to back against it coming true.
Diagnosed with type two segmental Cowden's syndrome – one of only two similar cases worldwide – Joel spent a large part of his formative years in and out of hospital, an experience that though heartbreaking, left his parents, Julian and Lisa, in no doubt that their son was as tough as teak.

They'd been told when he was only five that he might have just 12 months to live without medical intervention. Then, aged seven, after a four-month spell in hospital, the medical team told them the only real option open to them was the amputation of Joel's right leg.
"The doctor said: 'we need to have a meeting – we'll call Joel in. I'm really worried about this and how he's going to take it," Julian recalls. "Joel's reaction will always stick with me. He said: 'yeah, that's fine, cut it off. Send it to hell.' Those were his words. 'I'm fed up with being in hospital, I just want to go home."
That strength of character is apparent from spending the briefest of time in Joel's company.

A ventriculo-peritoneal (VP) shunt runs from the back of his head to prevent a build-up of fluid around the brain, and medication that suppresses his immune system means if he is hospitalised, the stay is generally in isolation. However, these are things he has chosen to see as hurdles rather than barriers to success.
He possesses a sense of humour dry enough to be described as arid, and his quick wit is a delight. 

"We'd all say it's probably the winning," he laughs, when asked what he enjoys most about days like today. "Not really, I enjoy being out and having a good time with my friends," he adds.
Having a good time with his friends through sport has proved a huge boon for Joel's personal development. "Anyone can do sport," he says. "Sometimes people who are disabled turn out to be a lot better than the able-bodied – and if they're not, the most important thing is to have fun."
Help from the Taverners has opened plenty of doors to fun – not least the donation of five basketball wheelchairs to his beloved Birmingham Rockets basketball team. There's a video clip of Joel from a couple of years back that your correspondent watches before meeting him. The young man in front of the camera then is virtually unrecognisable from the one encountered now – these days his body language is confident, the answers far more strident. He looks thoughtful, focused – and not remotely anxious.
Julian attributes much of that to his son's go-ahead nature, that desire to give everything a go, coupled with what Joel himself describes as a 'very, very competitive' outlook.
"It was about giving him every opportunity," Julian says. "He is quite shy, but we have really tried to encourage him to push. He loves his sport, because it allows him to compete with able-bodied people – in his water-polo team he's the only one with a disability – and when he swims, he doesn't swim with other disabled swimmers, but able-bodied kids."
They have an increasingly hard time keeping up. Swimming is the driving force in Joel's sporting life, and he pounds the lanes at his swimming club for at least two hour-and-a-half sessions a week, racking up as many as 3,000 metres in a session,
"It goes back to when I had my leg cut off," he says, matter-of-factly, of his love of the sport. "I was welcomed with open arms by head coach [at Boldmere Swimming Club], Geoff Fowler. I'm good at all the strokes now, except breast-stroke – that relies 70 per cent on your legs and I struggle a bit with my leg as there's some business going on with it."
It's another winning example of Joel's humour – making light of his problems in a way that puts the day-to-day grumbles of the majority to shame. "I'm trying to be as independent as I can," he says. "I'm very stubborn – I tolerate help. I really tolerate it."
When I relay that quote to his dad, Julian laughs, recognising it instantly as a typical Joel quip. "He's a real joker," he says. "He winds his mum up something chronic."
Beneath the jokes lies a serious work ethic. "One of his swim coaches always comments on how the other swimmers in his group complain that 'my arms hurt' or 'I'm in pain'," Julian adds.
"When you look at Joel and what he goes through – he's in pain on a daily basis, and has medication to control that – but he carries on. He says they need to take a leaf out of his book."
Besides the mental benefits of sport, through teamwork, competition and the self-confidence that interaction brings, the knock-on physical effects cannot be underestimated, either. Basketball, table cricket and swimming have given Joel upper-body strength and definition. His stamina is also unusual.
"He seems to recover really swiftly from a quick workout – which has been noticed particularly when he swims," says Julian. "When others start to fade, he seems able to carry on and maintain a constant speed."
Joel's swimming prowess has alerted plenty of clubs to his talents. Besides competing, he is regularly found volunteering at galas, helping out with timekeeping – he's also in the progress of doing a level one basketball coaching course alongside a similar badge in swimming. "I feel like his part-time agent and chauffeur," Julian laughs, so often does he ferry him from one activity to the next. But he wouldn't have it any other way. "Sport is so important," he says. "Just because you have a disability – and Joel would say exactly the same – don't think you can't do something. Have a go – you might surprise yourself with how good you are at it."
Joel Hales-Waller has beaten many nightmares in his short life, but the dream of representing his nation as a paralympian is coming more sharply into focus. "I certainly didn't think that would be the case when I first got in the water," he says. "I now have so many opportunities available to me."
Back at the table cricket there's a shock in store, though, as Joel's Wilson Stuart side are dramatically beaten in the last over of the final by Severndale Academy. Though there's disappointment that they won't defend their crown at Lord's, it soon subsides into shrugs, handshakes and hugs.
"The Paralympics is the dream," Joel says. "People keep telling me I might get there. But if that doesn't work out, I could become a PE teacher, or a coach, so I can train people to become athletes."
It is hard to imagine anyone could find a better mentor to help them through the hard yards.

Joel Hales-Waller has the jump on anyone there, and a can-do spirit that's little short of inspirational. Remember his name. You'll surely hear it again.

Steve Morgan