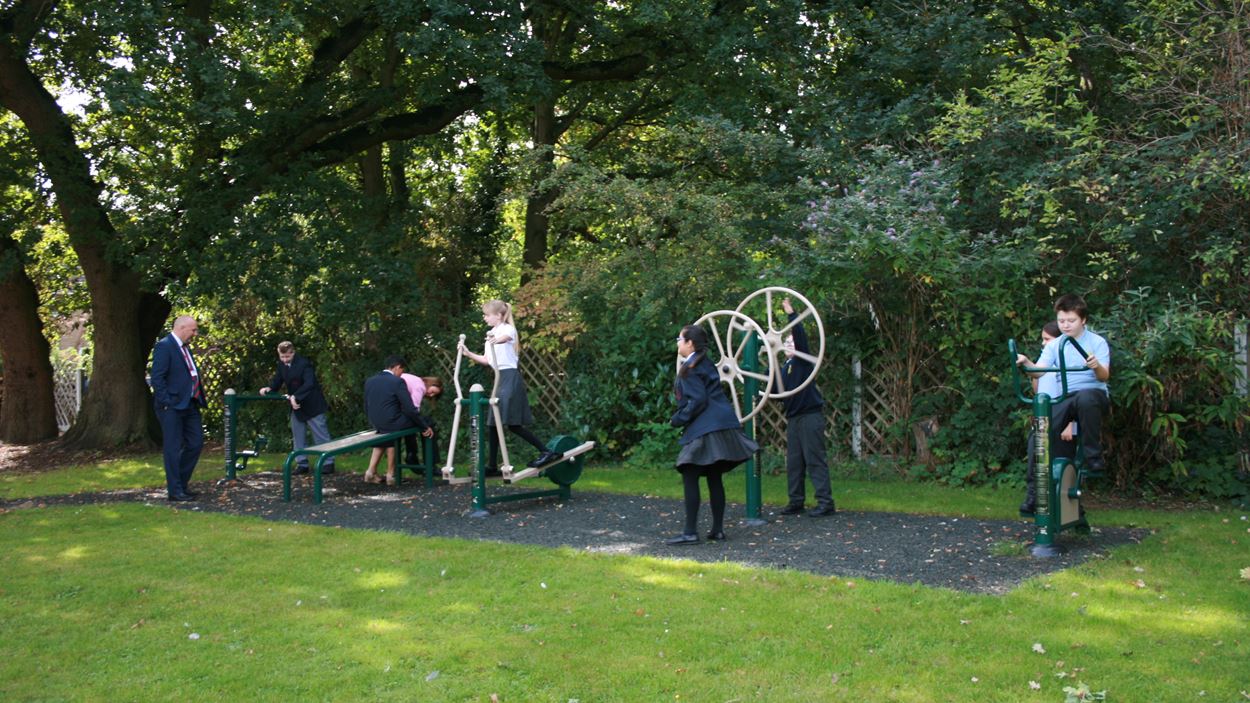 News
New outdoor play space for disabled Essex youngsters
BBC Radio's Dave Monk joined representatives of the Lord's Taverners in Chelmsford (Essex) last month (10 September), to officially unveil new outdoor play equipment for staff and pupils of Thriftwood School.
Thriftwood School has a wide catchment area across Essex and provides special education for over 100 young people aged 7-14. They cater for a wide range of disabilities and associated learning difficulties, including autism, cerebral palsy, Williams syndrome and ADHD.
The new outdoor play equipment, which consists of an outdoor bodyweight gym system, will help pupils to develop communication and physical skills and gain a boost in confidence, improve physical and mental health, while helping them develop emotional responses.
It is essential that children with severe learning and physical disabilities have access to suitable and adapted outdoor play equipment. 'Play time' is proven to improve children's physical and mental health, help develop emotional responses and learning skills and improving basic numeracy and literacy.
The installation of this new play space has been made possible thanks to support from Tiptree. Staff have taken on a number of fundraising challenges throughout 2018, including a 24-hour sponsored silence from their Managing Director, a 100-mile cycle ride, an all day badminton match and a quiz night, which resulted in £7,500 being raised to help fund the new facility at Thriftwood School.
Georgina Pryke, Headteacher at Thriftwood School, said: "We are delighted to be able to provide a new outdoor gym for our pupils at Thriftwood, thanks to the support of the Lord's Taverners, and their fundraising partners.
"Our pupils will get access this vital equipment at playtimes, lunchtime, as well as during physical education lessons where they will be able to burn off their excess energy, be active and have fun.
"The equipment has enabled them to learn about the benefits of exercise and how to share, while also helping to develop their imaginations through role play."
Joint Managing Director of Wilkin & Sons Ltd, Scott Goodfellow, added: "We are delighted that our donation to the Lord's Taverners is helping Thriftwood School; they do amazing work helping youngsters reach their full potential. The staff at Tiptree and some friends took part in some special fundraising events, including a 24-hour badminton match, a quiz night, and a sponsored 24-hour silence by the chattiest director!"
Paul Robin, CEO of the Lord's Taverners, added: "The Lord's Taverners is dedicated to giving young people a sporting chance so we are delighted to present this new outdoor play equipment to Thriftwood School. This new equipment will benefit the teachers, carers and families of Thriftwood School's students and enhance the learning experience and future development of its pupils."