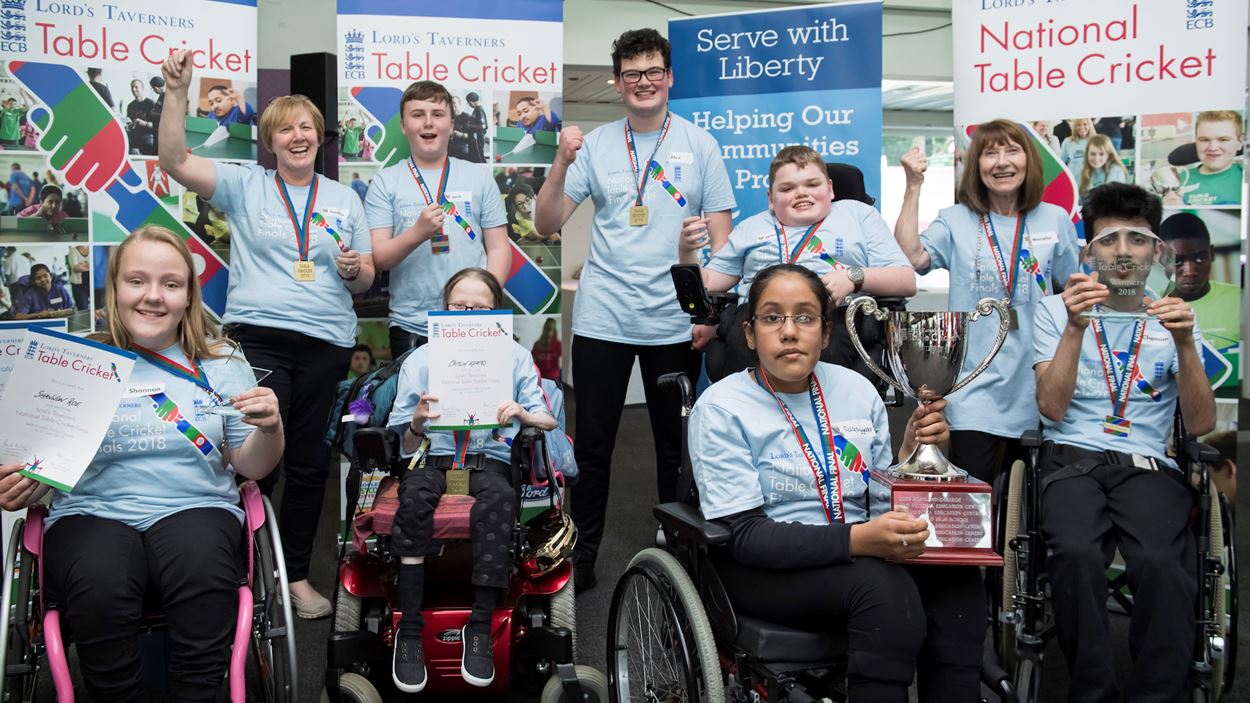 News
Ralph Thoresby regains national table cricket title
Ralph Thoresby School (Leeds), were comprehensive winners at the 2018 National Table Cricket Finals, held yesterday Lord's Cricket Ground. The team, led by captain Lewis Bird, were unbeaten throughout the day and defeated last year's champions Wilson Stuart (Birmingham) to regain their crown.
The Nursery Pavilion was the venue for the finals, expanded to 12 teams this year, and there was some fantastic table cricket skills on display from all involved. Ralph Thoresby, who made it through their regional final in Yorkshire to qualify for the National Finals, beat the reigning champions by 42 runs in the final to regain the title they won in 2016.
During the 2018 competition, now into its 20th year, more than 300 schools and over 3,000 disabled young people took part, with county and regional heats taking place all over the country. The 12 schools that made it to the finals were:
•  Birkett House (Leicestershire)
•  Bradley Stoke (Gloucestershire)
•  Castle Hill (Lancashire)
•  Denbigh High (Bedfordshire)
•  Greenfield (Wales)
•  Northease Manor (Sussex)
•  Ralph Thoresby (Yorkshire)
•  Severndale Academy (Shropshire)
•  St Mary's (East Yorkshire)
•  Thomas Wolesy (Suffolk)
•  William Howard (Cumbria)
•  Wilson Stuart (West Midlands)
The game not only gives opportunities for competitive play and social integration, it also improves life skills including self-confidence, independence and social skills. An enhanced role for the captain also allows for the development of leadership skills.
Ralph Thoresby player, Caitlin Keates, loves playing the game and was very happy to win the competition: "I enjoy table cricket because I like competing in the competitions, working as a team and meeting new people. I enjoy fielding the most as I like being able to support my team mates. The atmosphere today has been amazing, and we won all our matches, so I'm really pleased."
Jane Gibson, Learning Support Assistant at Ralph Thoresby, said: "It's just overwhelming, I really just can't believe it! It's the second time we've done it, we won in 2016, came back this year and we've done it again, absolutely amazing I'm so proud of them all."
Greg James, an ambassador for the Lord's Taverners commented: "It's a brilliant day and it gives young kids with learning difficulties and physical disabilities a chance to club together and have an amazing day. Everyone gets a go and it's competitive, but it's also fun and promotes teamwork.
The whole point of the Lord's Taverners is to give kids with disabilities a chance to do something like this, which is saying you are amazing and look what you can do."
Played on a table tennis table with side panels and sliding fielders, a ball launcher, weighted plastic ball and wooden bat, table cricket enables young people with severe physical and learning disabilities to enjoy cricket and represent their school on a competitive basis.
The Lord's Taverners Table Cricket programme, which is supported by Ford and the players of People's Postcode Lottery, last year gave more than 3,000 young people with severe physical or learning disabilities the chance to compete and have fun, regardless of ability.