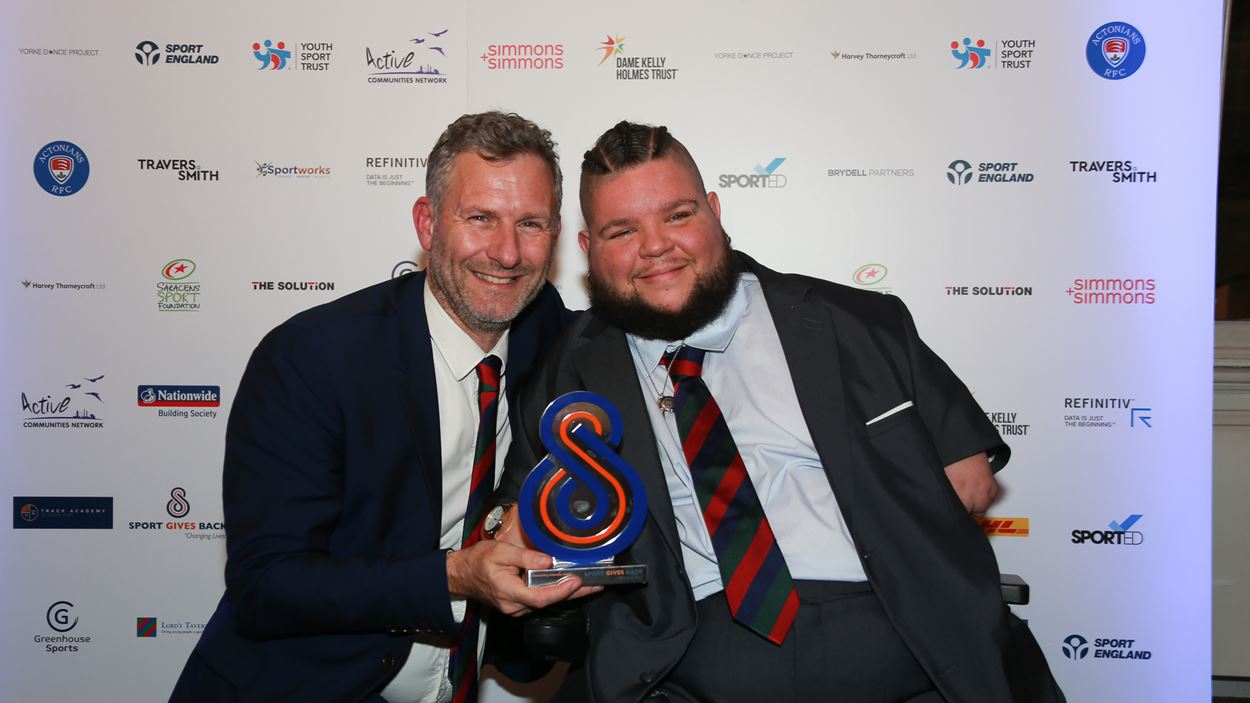 News
Sam Alderson recognised at Sport Gives Back Awards
Former Super 1s participant, now coach Sam Alderson has been recognised for the work he has done transforming lives through sport across the country, winning the overcoming adversity award.
The Lord's Taverners was one of 10 charity partners celebrating the power of sport to benefit society at the inaugural Sport Gives Back Awards held in London last week (5 March). 
The awards were created to tribute the hard-working individuals, groups and organisations across the country who are transforming lives through sport.
It was a star-studded evening with sporting legends such as Lord Sebastian Coe, Dame Kelly Holmes and Daley Thompson CBE amongst the VIPs. We were delighted that comedian and presenter of The Last Leg, Adam Hills was on hand to present the Overcoming Adversity award to Sam Alderson on behalf of the Lord's Taverners at the The Royal Institution in London's Mayfair.
Sam, from Bexley, south-east London, has a rare genetic condition called TAR (thrombocytopenia-absent radius) syndrome, which means he has a blood disorder that disrupts clotting and does not have a radius bone in either forearm.
He is a wheelchair user but none of this has stopped him from first playing cricket, and most recently, coaching the game. Originally a player as part of the Super1s Disability Cricket programme, he is now qualified a level two coach.
For Sam even making a cup of tea is difficult. Sam's determination to face life head on with a smile on his face make him an inspiration for the cricket team he played with and now coaches. Sam never gives up, determined to help other young people – he shows them that if he can do it, they can. If cricket is a tool to change lives for the better, Sam is the embodiment of it.
Paul Robin, Lord's Taverners CEO, said: "Firstly, as a player, and now a coach, he is an inspiration to everyone on the programme to show what he can do, not focus on what he can't. He really is a role model and demonstrates how sport can give back."
To find out more about Sam, please take a look at the video below.