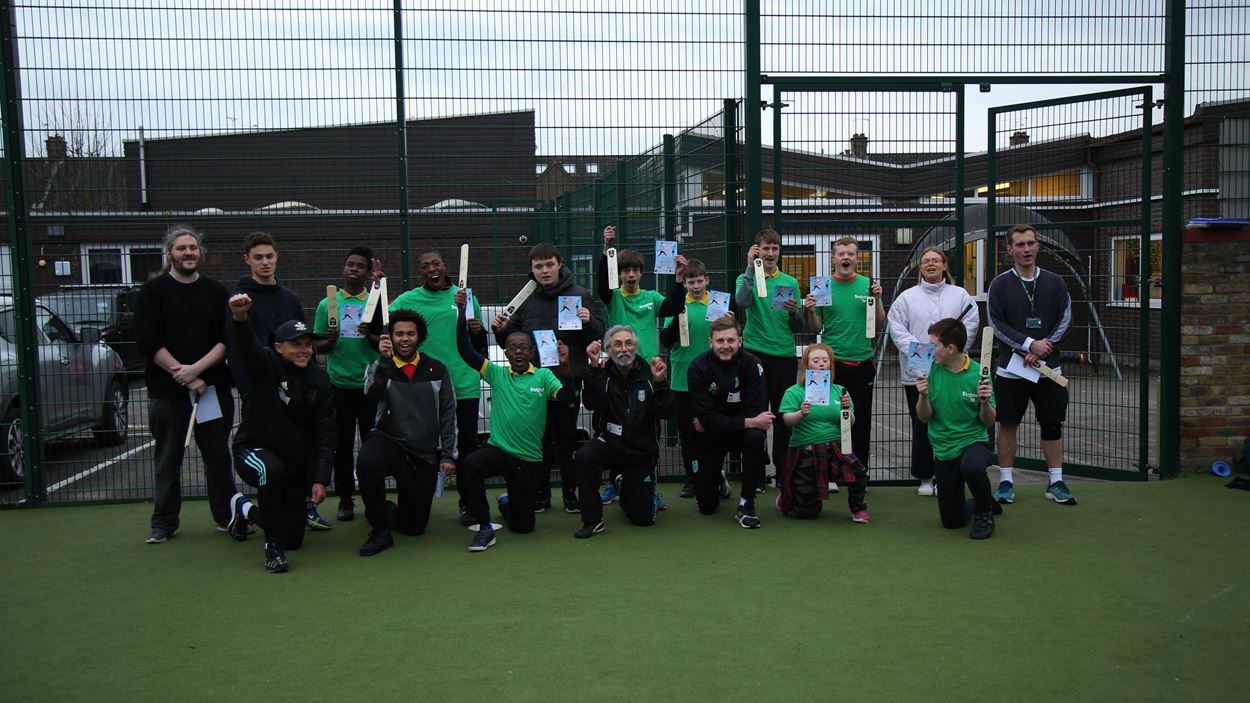 News
Sam Curran visits Surrey Super 1s session
Sam Curran and Gus Atkinson inspire young people with disabilities at Wandsworth Super 1s session
Surrey men's players Sam Curran and Gus Atkinson joined participants on the national disability cricket programme, Super 1s, for an after school cricket session at Garratt Park School (Wandsworth) to inspire young people with disabilities to play the game this month.
Super 1s in Surrey is delivered in conjunction with Surrey Cricket Foundation and the hub at Garratt Park School, a special educational needs school in close proximity to The Kia Oval, is just one of nine Super 1s hubs taking place in Surrey every week, available for 12-25 year olds with disabilities.
The sessions offer an entry level of training and sessions are adapted depending on the participants, to help them gain both cricketing and social benefits. This particular session involved a simple fielding drill warm-up, followed by a pairs cricket game and to help build leadership qualities, the coach invited one of the participants to run the warm-up. The sessions are designed to be engaging and inclusive, and the participants love playing cricket while having fun with their friends.
England international Sam Curran couldn't wait to get involved with Super 1s: "As soon as me and Gus found out we would have the chance to come down here, we jumped at the opportunity. These young kids with disabilities might not have had the same opportunities we did when we were young and after spending an hour with them tonight you could see their confidence growing. 

"I've been very touched by coming down here and seeing the kids playing. For them to now have that access and opportunity to get involved in cricket is amazing, the programme is growing around the country and its something we need to keep building on."
Surrey Cricket Foundation Disability Development Officer, Neil Bunting, said: "For a lot of young people with disabilities, Super 1s is the entry level. We adapt the sessions to fit with the requirements of the people who come along. What we aim to do is use cricket to engage, then the social benefits of getting back out there with some friends and other skill development comes with it."

Michael Darcy, P.E teacher at Garratt Park School, added: "It was so nice having those role models and professional cricketers coming in to visit the kids, it's fantastic. Our children don't often get those opportunities."

To find out more about these sessions, click here.
Watch the video from the session below.
Sam Curran and Gus Atkinson visit Wandsworth Super 1s