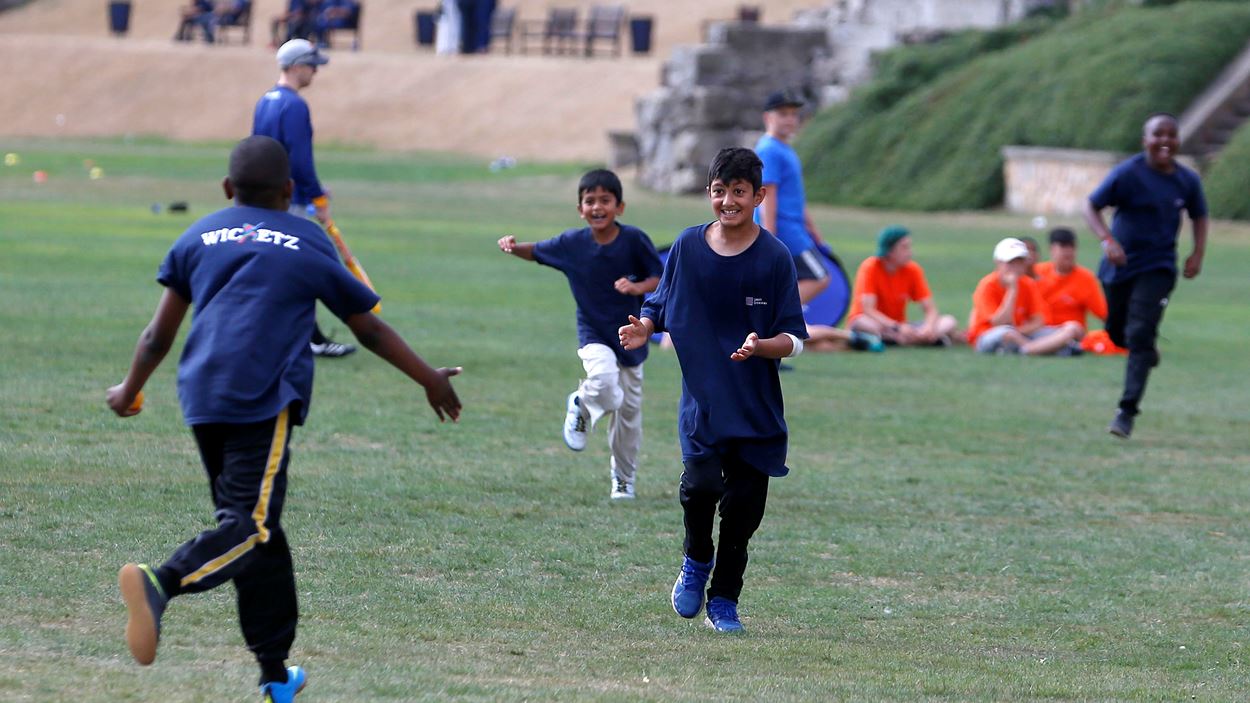 News
A whole new ball game
"Show me what you've got – come on, attack the ball!" The voice, insistent and crystal clear – carries on a gentle breeze under a clear blue Derbyshire sky. Framed against the impressively imposing backdrop of Repton School, a group of six teenage fielders await their turn to impress the owner of the voice, Peter Moores, as he leads the drill. Their throws fizz and arc over the stumps, where the Nottinghamshire and former England coach waits, catching mitt in hand, offering words of wisdom as he gathers the returns. A few yards away, to Moores' right, former England paceman Kabir Ali is putting a group of bowlers through their paces in the nets and Derbyshire's Luis Reece demonstrates batting drills to another set of attentive viewers. Away in the distance, across the bowl of sun-scorched grass behind the school buildings, a hard-ball game is in full flow in front of the wonderful, thatched pavilion, the thwack of bat on ball punctuated by enthusiastic appealing.
If you were putting together the perfect cricketing postcard, you wouldn't be far off with this panorama. Today, though, it's a postcard from the edge, a view from the boundary. These hopefuls looking to win the approval of messrs Moores, Ali and Reece are not your regular Repton boys. 

Their day-to-day worlds are far removed from these cloudless skies and dreaming spires. But over three days 120 of them – aged between eight and 16 – will have their eyes opened and their horizons expanded; some, perhaps, forever. It's probably not that much of a stretch to suggest that the closest to this scenario in their imagining is the fantasy world of Harry Potter – for these boys, this is Hogwarts with cricket.
Today is the second and middle day of the third Wicketz residential cricket festival – the guests handpicked from 13 community cricket projects held from Plymouth to Glasgow, via Bristol, Tower Hamlets, Manchester and beyond. At these weekly, hour-and-a-half drop-ins or 'hubs', funded by the Lord's Taverners, and run by hugely enthusiastic Development Officers – also in attendance here – cricket acts as the inspiration, a vehicle for change and education in areas of high deprivation.
But Wicketz is about more than exposure to cricket's rhythms and manners. Instructive though the lessons learned playing the game are, guest speakers also highlight the challenges and perils that can face those on the margins. It is an ever-evolving programme. The first Wicketz hub, set up in 2012 in West Ham, now has teams playing across several junior leagues. Recent additions to the mix include Leicester and Worcester, with dramatically increased participation across the board.
Over the three days at Repton, the boys will get to rub shoulders with peers with unfamiliar accents, from places that until now may have been just names on a map. They will play cricket with and against them, and hear motivational talks in a series of workshops. They may come to realise that poetry is not a punishment visited upon them by mean-spirited English teachers, but instead a potentially powerful avenue for self-expression and self-discovery. They will also hear from a reformed career criminal, explore the hidden dangers of social media and gang life, and learn the value of healthy living and eating. Your correspondent is horrified to discover how much sugar is consumed without even realising it. There's even a street-boxing class to help channel aggression. Then, if they have any energy left, there's valuable downtime in which to cement those new friendships.
For Howard Shore, project lead on Wicketz Manchester, which opened its doors in late 2017 to kids from Gorton, Old Trafford and Salford, the residential festival is both life-affirming and potentially life-changing. "It was a little bit daunting last night," he says with a wry smile.
"For some it's the first chance they have had to be away from their parents, staying overnight somewhere. But they will come through it. I think the tiredness is partly from trying to maximise their enjoyment and take as much out of it as possible," he adds. "Making new friends, interacting in different ways – learning where their strengths and weaknesses are, trying to see how they can develop as children and young people."
Shakeel Ahmed, Wicketz Development Officer for Tower Hamlets, concurs. "It's about building relationships – our project has helped provide more and more opportunities for hard-to-reach young people, especially with all the gang and knife crime that is taking place," he says. "I still play, and for me a big part of it is socialising and making friends. I can see from the boys in our programme that for them that is a big part of it as well – improving their leadership and social skills, as well as confidence."
The notion of personal development is a recurring theme, a message constantly reinforced through cricket. There are telling examples of it wherever you look, whether structured or organic. Just being here is a step outside themselves for these youngsters. Mixing the groups up into 12 teams – pairing boys from Leyton and Hartlepool, Glasgow and Plymouth or Leicester and Bradford – allows these experiences to be shared. Lunch break on day two sees an impromptu game break out in the small space outside the dining hall, tennis ball flying to all parts amid a cacophony of chatter and encouragement.
For Abdus Salaam, the picture is especially poignant. Though only just 18 himself, he has the air of someone far older. But then cradling your best friend, as he dies in your arms after a gang skirmish, is likely to carry that kind of weight. Salaam is now a veteran of three Wicketz festivals. Initially here as a player at 16, trying to find a new path – he has since become a fully-fledged coach, his life dramatically turned around. Besides helping mentor the boys, he is also presenting his own workshop. It is dynamite. Sat cross-legged on the floor of the school's chapel, his audience is hushed and reverent, sold on Salaam's relatable, no punches-pulled approach. For some, though, the home truths about who you are – or who you could be, if you give yourself the chance – can get a bit too much. "I've had six boys in tears today, three yesterday," Salaam says, shrugging his shoulders. "Not deliberately, obviously!"
If there was once bravado in Salaam's back story – a young man trying to make a name for himself among his peers – there is no trace of that now. He reflects candidly on the pain taking the wrong path can – and does cause – particularly the hardship visited on his mother – "such a soldier – I needed to change, for her." It's visceral stuff. At the end of his session, he invites the boys to pen a few verses of poetry on past and present behaviours – and the explanations for them – and asks them to discuss what could change in the future. Everyone diligently buys in. "It'll be read out tomorrow – whatever you write," he says.
It's the same picture at Mark Clarke's session. A ball of effervescence, clad in a busy Hawaiian shirt and three quarter-length shorts, reformed career criminal and drug addict Clarke's message is aimed at those at the older end of the Wicketz spectrum. As his talk begins, one lad looks like he is going to disrupt proceedings, continually, fiddling with his phone. Not maliciously, just showily, more to court attention – to be noticed, perhaps.
Clarke spots this swiftly, but leaves it. He knows from experience that once he gets going, the noise will die down. Within 10 minutes, the boys are eating out of his hand. By the end of the 50-minute exploration of positivity and can-do anecdotes, they're whooping and high-fiving, buoyed by the tangible energy in the room. The boy with the most questions and the most eager to answer them? That'll be the one who started off on the wrong foot.
Though there is no panacea for these boys, these three days offer critical pointers – signposts to self-improvement, self-esteem and the value of teamwork. It is one thing to read the literature or look at the numbers, it's quite another to see and feel it working up close. "I love it," Abdus Salaam says later when asked if he enjoys his burgeoning status as a role model.
"I love kids coming up to me and asking me for advice, because when I was a kid I never did that. I was mister know it all," he says. "I probably learn more from the students than they learn from me. Now those kids are asking me those questions, it makes me realise I should have done the same all those years back."
The abiding image is the kind you wish you'd captured on camera. It is of Abdus Salaam, something of a poster boy for the project thanks to his easy eloquence, loping away into the distance in the haze of the afternoon sun. On either side of him are two of the younger lads from his Luton project.
The three are deep in conversation, the boys gesticulating animatedly. From behind, for all the world, it could be a cinema poster for a film about family – which in a way, it is. Asked where he would like to be in 10 years' time, Salaam offers without any hesitation, "I want to be the man my mum is always proud of." Both he and the Wicketz boys are on track in the search for that future – the quest to show everyone – not just Peter Moores – just what they've got.
Steve Morgan