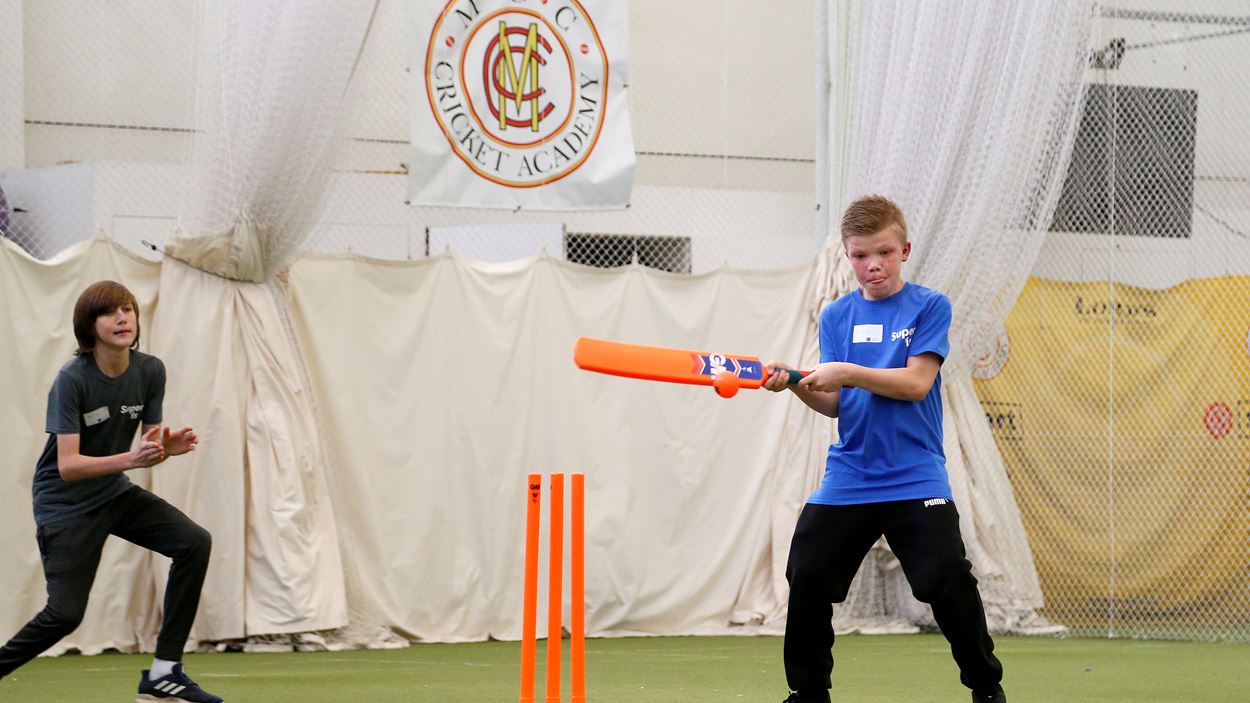 News
A Year In Review | Super 1s
A year of expansion for our Super 1s programme in 2019 as new projects were launched across the country, the first ever Super 1s residential took place at Avon Tyrrell in the New Forest, finishing with the great Shane Warne presenting the trophies at the London Super 1s Finals at Lord's.
The number of hubs offering disability cricket activity increased by 27% to a total of 76 nationwide, which has led to a 24% increase in the number of disabled young people engaged through Super 1s. In June, our successful Greater Manchester project run in conjunction with the Lancashire Cricket Foundation expanded its horizons and set up a hub in Liverpool. This was celebrated during the lunch interval on day two of the Lancashire vs Leicestershire County Championship Division Two clash, with participants from Palmerston School taking part in a Super 1s session on the outfield.
We piloted a Super 1s residential festival in August, with 25 young people from hubs in Bexley, Hackney, Hampshire and Sussex, all with a wide range of disabilities, taking part in the inaugural festival at Avon Tyrrell, a leading outdoor learning venue dedicated to the development of young people. This three day trip to the New Forest, which included cricket as well as activities such as kayaking, climbing and archery highlighted the impact of Super 1s beyond sport. With many of the children having never stayed away from their parents before, there was a great sense of achievement, camaraderie and independence amongst the young people as they cheered each other on climbing the high ropes, hitting a bullseye or getting in a kayak for the first time.
In October, Super 1s came to the home of cricket, Lord's. Firstly for an inspiring awards evening where Lewis, Callum, Shannon and Kian, the four Inspire Award winners were recognised for their special achievements in the last year in the Nursery Pavilion. This was also the evening where we announced an extension to our partnership with the Berkeley Foundation who have committed to another four years in an agreement worth £800,000.
Secondly for the London Super 1s Finals - our flagship day of competition which was capped off by Shane Warne's trophy presentation. Over 80 disabled young people in six teams from London and the surrounding counties came to Lord's for a day of fun and competitive cricket. The teams competing were from Bexley, Hackney, Hillingdon, Kingston, Newham and Redbridge. Hillingdon were the eventual winners, featuring the best bowling attack in the competition, they won all five of their matches to finish top of the final standings. Australian legend Warne then surprised the participants and was there to hand out the trophies.
WATCH
SEE THE IMPACT OF SUPER 1s