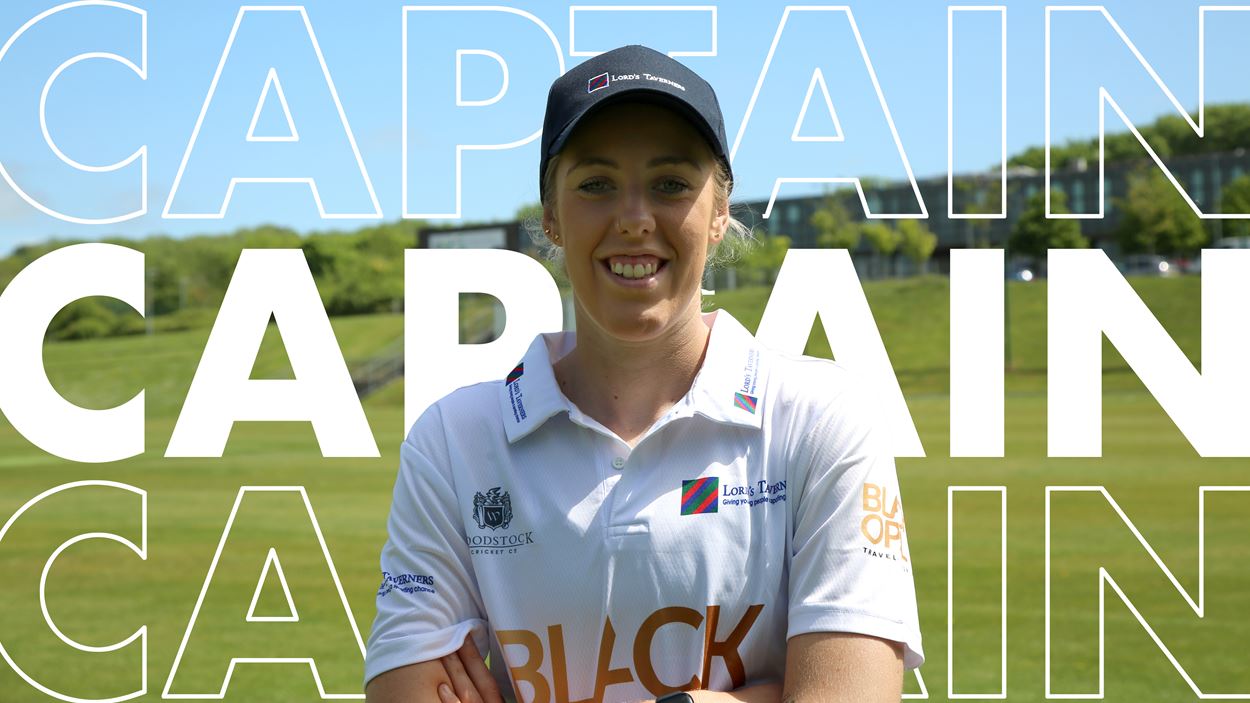 News
Georgia Adams named Taverners Cricket XI Captain
Georgia Adams has been named the new captain of the Lord's Taverners Cricket XI ahead of an exciting summer of fixtures for the charity that positively impacts the lives of young people facing the challenges of inequality.
The Lord's Taverners work across the UK and beyond to provide inclusive and impactful cricket programmes, empowering young people with disabilities and from disadvantaged communities to develop the knowledge, skills, capabilities and confidence required to overcome the challenges of inequality, raise their aspirations and reach their potential.
The 28-year-old has captained the Southern Vipers to successive titles in the Rachael Heyhoe Flint Trophy and also enjoyed success last year winning The Hundred title with the Oval Invincibles.
Not only is Georgia bringing a wealth of knowledge and experience to the Taverners XI which has been playing fundraising fixtures since 1952, but she's also excited about being a role model for young people and supporting the work of the national charity that is close to her heart with strong family links.
Georgia's Dad, former Sussex and England international Chris Adams, was a regular for the Taverners XI while she was growing up and it was another former professional who asked her to take on the role.
She said: "I was playing an internal warm-up game with the Vipers and Paul Prichard called me across and asked if I would be interested in taking on the role and I'm both delighted and extremely honoured.
"I've got so many great childhood memories of watching my dad play for the Tavs. It's such a prestigious charity and the work it does across the country is phenomenal. I'm proud to play my part to create more positive impact for young people.
"I was taken about when I learned that there are 4.1million people in this country facing inequality so supporting our cricket programmes is so pivotal in making a difference and giving opportunities to people who want to get involved, but for many reasons feel like they can't.
"Hopefully I can help to raise the profile of the charity and show what we can all do to help and support these young people across the country."
Georgia takes on the captaincy role from Prichard who is not only her coach at the Vipers, but also Chair of the Taverners cricket committee.
He said: "Georgia is not just a great leader on the field, but she is also a fantastic role model for all the young people on our cricket programmes of Wicketz, Super 1s and Table Cricket and none of us could think of a better person to ask to be Club Captain and continue the life changing work of the charity to empower young people with disabilities and from disadvantaged communities across the country."
Georgia, who will play for the Taverners XI when her professional commitments allow, added: "There's a real need for role models now. It wasn't until I was 12 or 13 that I realised that girls could play cricket. Back then, I only had one female role model and that was Clare Connor. She was the only person I knew and after playing in The Hundred last summer, it raised my awareness of how important female role models are.
"To see those young girls having access to watching cricket and players, and have a connection was exciting and I'm inspired to play my part in the charity so we can provide many more avenues to being part of the game as nobody should be excluded."
Georgia Adams named Tavs XI Captain