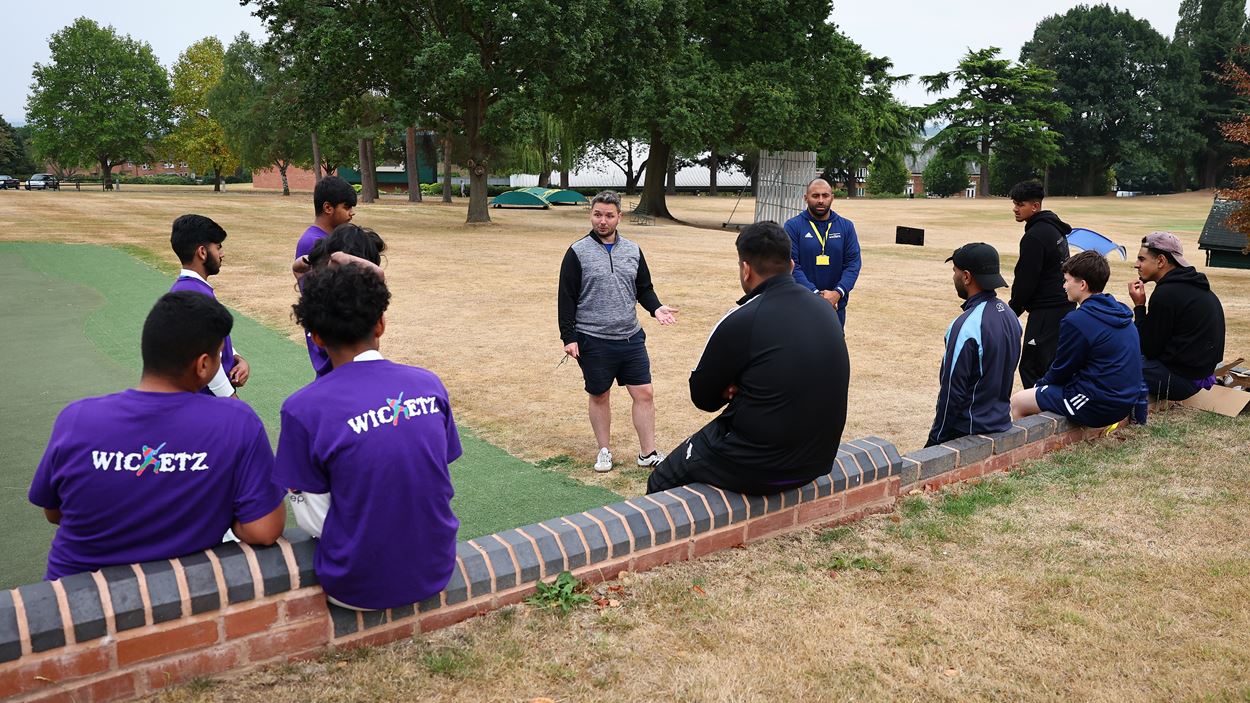 News
Opening up
How
Wicketz
' residential
festivals
are shining a light on personal development.
Hamza Khan has a wonderful smile, a huge broad grin that frames his freckle-flecked face.
But as he trudges back from lunch across Malvern College's normally lush green playing fields, now rust-coloured and rain-parched by the heat, he pulls up. The smile, like the mid-August sun playing hide-and-seek behind the clouds, has passed briefly. "Nowadays," he says, with maturity belying a 17th birthday still a couple of months off, "little kids want to become gang members – or gangsters – because they think it looks good." He throws his arms wide, gesturing towards the distant, glorious Malvern Hills. "This," he says, "offers you so much more – I can't really sum it up."
It's the second – and middle day – of the Lord's Taverners Wicketz festival. The second of three back-to-back residentials across August, the rarified Worcestershire surrounds are home to 61 of the programme's 15-19-year-old lads, with similar affairs for under-15 boys and under-16 girls at Repton School. The thwack of bat on ball whip-cracks off the college walls, punctuated by cries of encouragement, or whoops of glee as another delivery disappears to – and with impressive regularity over – the boundary.
The attendees are drawn from Wicketz' West Midlands, Glasgow, Hull, Luton, Manchester and Southampton inner-city hubs, where Development Officers use cricket as a weekly two-hour backdrop. These are places where growing up is far from simple and daily issues can be challenging.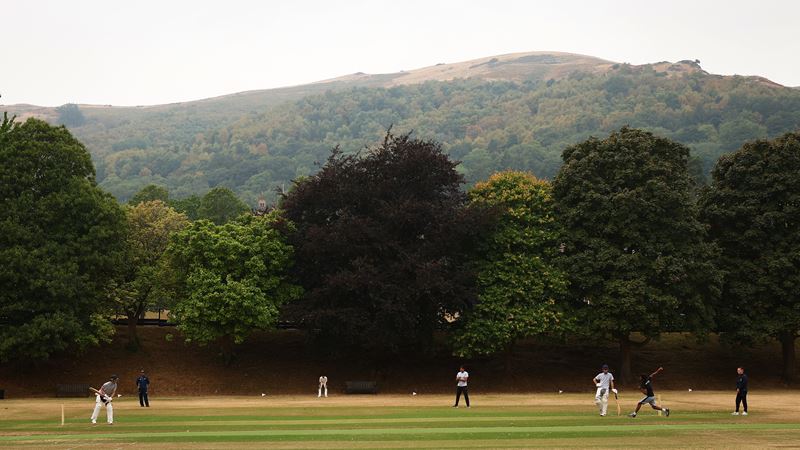 Many of the lads have been Wicketz regulars for the past four years. But this is far from their comfort zone – especially after the pandemic – as Wicketz' national programmes manager Dan Wilson explains. "To most of these boys, big buildings are usually high-rise flats, not these Hogwarts-esque affairs," he says. "These green spaces don't exist in a lot of the areas we work in. They might have a local park, but in those local parks there's danger – and these kids are vulnerable to that stuff."
The messaging around that is just one of the themes that Wicketz wraps around cricket – and a key theme of the three days here is equality, diversity and inclusion. In a programme tailored by the attendees in conjunction with their coaches, the boys were allocated a spot in one of six teams on arrival and given the task of selecting a name and discussing its core values. 'Always on the pull' raised a laugh but was swiftly rejected. Instead, we have the Falcons, Tigers, Lions and the charmingly named Multicultural Stallions who, in between the cricket, attend workshops on first aid, coach education for those with an eye on a career in cricket, and a chat around employability and the skills needed for it.
There are a few tired faces after some inevitable, if innocent high spirits bedding in the night before, but the mood is relaxed and focused. By mid-morning, the boys have already completed a basic first-aid session and are now rotating around these workshops, studded by a series of lively Twenty20 encounters, in which their respective teams will duke it out for overall bragging rights. Many of these boys hail from South Asian backgrounds – be they Bengali, Afghan, Indian or Pakistani. Talking through the day-to-day issues they face has proved a hot topic.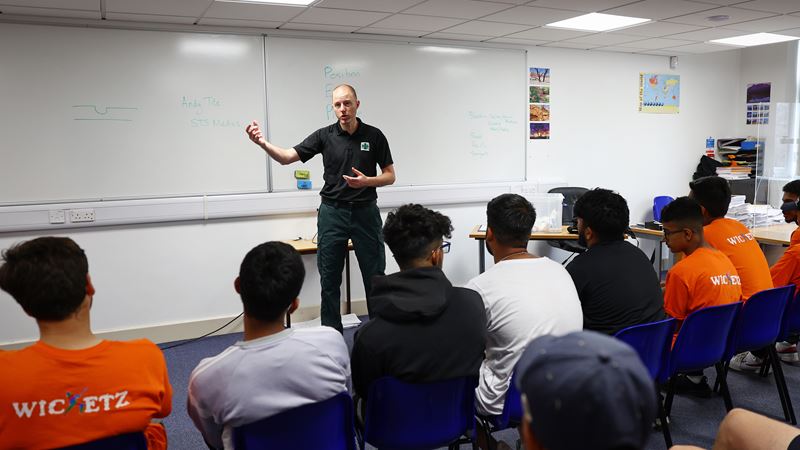 "The underlying message we've had from the guys was that a lot of them have experienced discrimination, and been on the wrong end of stuff," says Wilson. "But they've just never had that person to talk to – or don't know how to talk about it."
It is here that cricket's soft power – and the confidence in coaches who have got to know these boys both individually and collectively – comes into play. They may be here because of cricket, but cricket binds it together; a window through which the world can be more readily understood.
The thoughtful and eloquent Sam Moss, here supervising his 15 Southampton Wicketz boys – some of whom he has now seen on a weekly basis for four years – is still surprised by what he encounters. He peppers his conversation with enthusiastically delivered anecdotes about his charges, who hail in the main from the city's St Mary's area. They include the heartwarming tale of Zaki, whose sister Sara ended up joining the girls' Southampton programme, having initially come to watch her brother's sessions. "She used to say hello and never take part," he laughs. "She's now playing hardball cricket, coaching and umpiring. For some that come onto the programme, it's more purely like a youth provision, and that's what it should be – but for others, the impact that we have on them is life-changing.
"Experiences like these three days – so many life skills that can be picked up from just being here, as well as the stuff we do on top, offer key messages," he adds. "They're spending time away from home, with people they've never met before, as well as some of their closest mates– a combination of all those things is really good to see."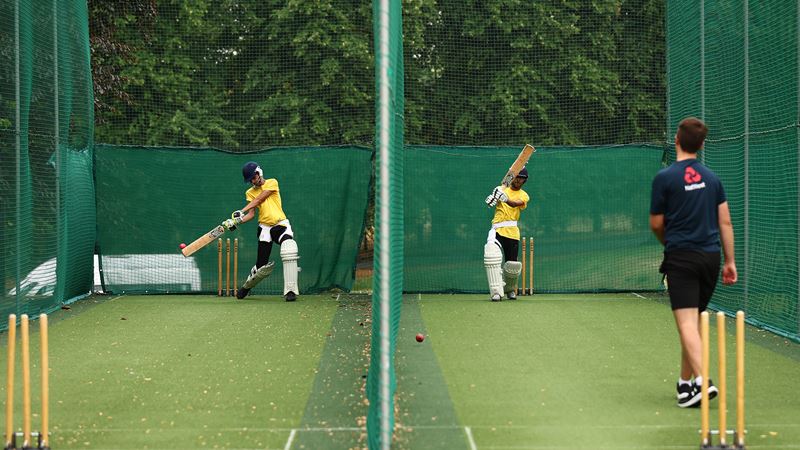 It's immediately evident. Though a few of the younger boys are quieter – understandable given how impossibly grown up those just a couple of years older than oneself can seem – the vibe is supportive and respectful. During games, the lads waiting to bat chatter excitedly. They quiz each other about different dialects – "is that Indian or Pakistani Punjabi?" – asks one.
The desire to connect is noted by the Taverners' Mark Bond, an international with England's visually impaired cricket side. Bond's session on the use of language discrimination run with Elliott Rousen, community engagement officer for Wicketz Scotland, has proved a powerful affair. The pair have used their own negative experiences to open up the floor. "To have a coach like Elliott say: 'I've been called the 'P' word – suddenly they're talking about it," he says. "We want these kids to celebrate what makes you different, to be proud that they're from Pakistan or India, and what they've achieved.
"Some of the kids who are really, really confident and loud suddenly quietened down and started having really serious conversations," Bond adds. "People here have dealt with stuff that you're going through and it's important that you have that support, but it's also important that these boys recognise where they are – to acknowledge their challenges and celebrate their successes."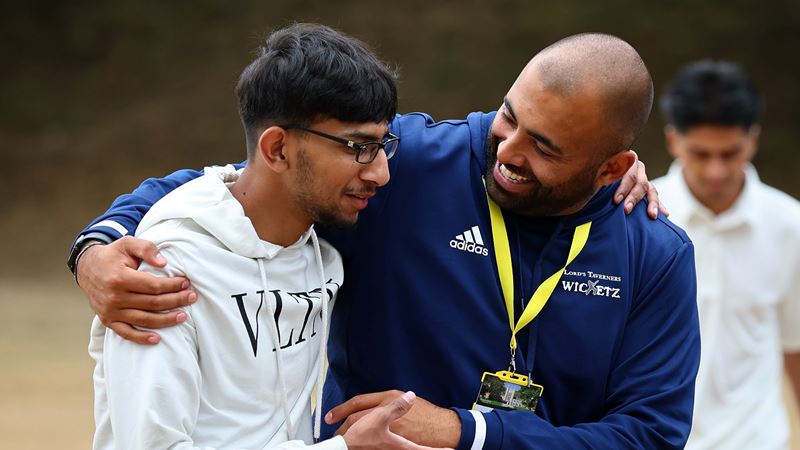 It is also important to highlight the pitfalls of one's own potential prejudices. "You can't know anything about anyone by looking at that them and assuming – it's about treating people with respect," says Bond.
Over by the nets, Dan Such, Head of Worcestershire's Coach Education Programme, is hard at work. An engaging presence, he sets his four groups a selection of coaching scenarios and takes them through a series of net do's and don'ts, aimed as a primer for those who fancy – or already are – helping mentor the next generation of Wicketz attendees. "A lot of these boys have the desire to help out in sessions," says Dan Wilson, "but they don't know what to do – having Dan here to give them some basic ideas, how to set up a session, hopefully they'll go away and give these things a go."
The back end of the afternoon finds Wilson hosting a warm, informal session aimed at employability. A small group of lads offer their takes on what it will need to ready themselves for the job market – from a pair of chinos for interview and the value of a good covering letter to outline your application. They are asked where they see themselves – 'astronomer' makes an appearance rather than the standard astronaut. The boys are relaxed and chatty. "I'll be the next Elon Musk," jokes one, with the swift rejoinder: "and then you can buy shares in Wicketz."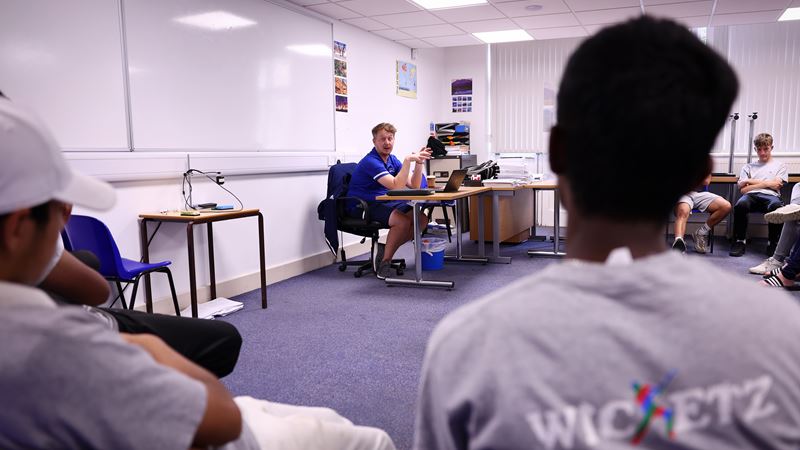 The afternoon draws to a close with a game between coaches and boys, the chance for the pupils to become cricketing masters. Three of the West Midlands entourage play regular cricket for Redditch in the Worcestershire County League Premier Division. The coaches animatedly discuss the batting order, they know it'll be a challenge.
The lives these lads return to after their three-day retreat will be hard at times, but experiences and memories are often a port in that storm. It has been no less eye-opening for Wilson and the Wicketz staff to see the barriers coming down, to be asked for help putting a CV together. "I've loved the organic conversations the kids were having, learning about each other's religions, races, cultures – that blew my mind, actually," he says. "They love their cricket, but to see all that extra stuff is incredible. Cricket's just a great ice-breaker – they all have a common goal and an aligned passion that helps them figure out other stuff they have in common."
Hamza Khan had said he couldn't sum it up. His words would suggest otherwise. "With Wicketz we have learnt about so much more than cricket," he says. "Teamwork, respect for each other, trust – giving each other a chance." That smile again. "And we're lucky to have a chance for all this beauty," he adds. Perhaps that old saw is true: fortune favours the brave.
Steve Morgan
The Long Room #67
Wicketz EDI Workshops