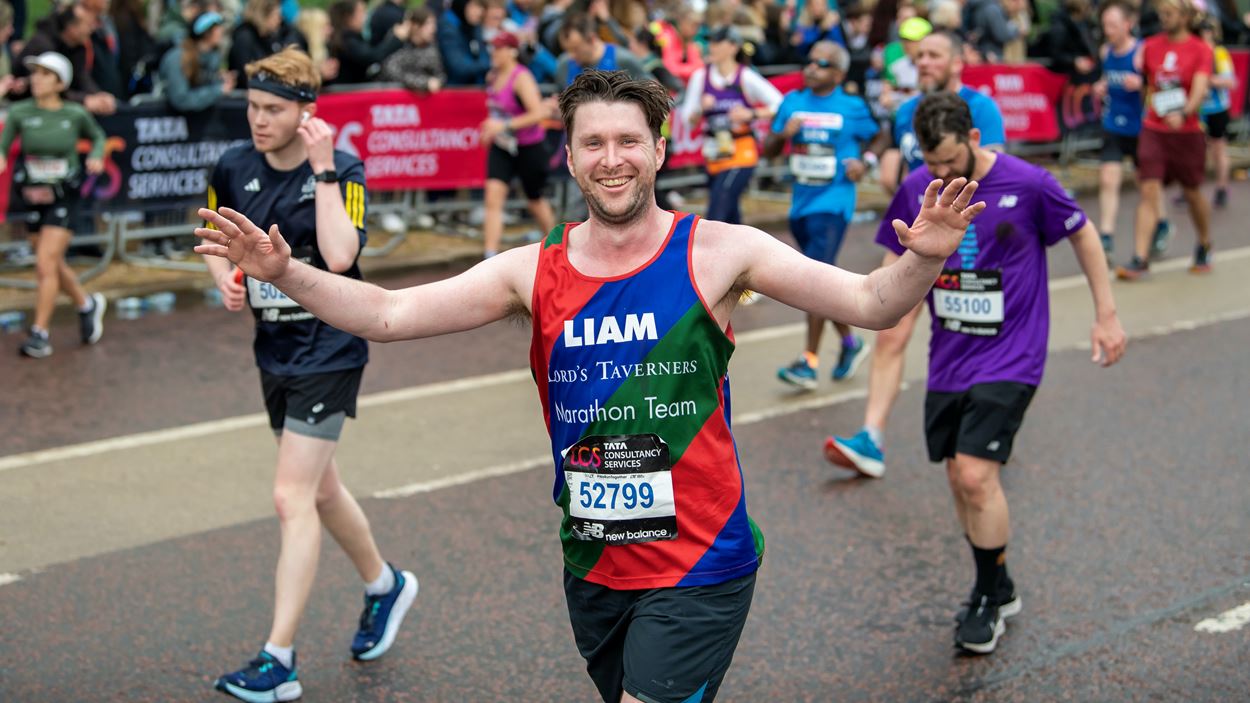 News
This is your captain speaking
Captain, Liam Byrne talks all things London Marathon 2023 and how you can join #TeamTavs in supporting our inclusive cricket programmes. 
I am, of course, one of many Captains under the Lord's Taverners umbrella and I'm sure there are many with far loftier CVs than mine (but here I am). Not long ago, as I write, it was Sunday 23 April 2023, the day of the London Marathon. My role in our annual team of 30+ runners of mixed abilities with regular emails, a WhatsApp group, an injury seminar and pre-race meeting the day before D-Day is really to advise, guide and encourage the rest to get the training done and stay injury-free (it's not just about running you see). Furthermore, to help them RELAX and crucially, to support in raising some cash, well, as much as you can possibly muster by telling everyone you know or come across, what we do and why it's so bloody good – I try and help them become a Tavs-evangelist, if they aren't one already! 
New to me in 2023, which helped charge my personal fundraising, was that I got to spend some time with Nauman Javaid, who leads the Wicketz project in Luton, my hometown. The guy is a giant and Tavs money ensures that his Wicketz cricket sessions are available for free. Meeting him was hugely inspiring and I would run for him alone. I would say that I would run anywhere for him but honestly, 26.2 miles around London is quite enough and it does the trick emptying wallets of those in my path! If you want to be a Tavs-evangelist, like I am, talk to him or the many others, on the ground, delivering what this charity does best for young people with a disability and from disadvantaged communities across the country. 
Our team fundraising was led by Tim Luckhurst and Chris Townsend who really boosted the coffers, so well done to them and the team as a whole has raised over £55,000 so far, you can still donate here. There were also some great race times across the squad, some hovering around three hours, some around four hours but each runner finished the race and very importantly... given the well-known beginnings of our charity, were present to clink a glass of their chosen grog post-race. We have an after-party package that looks after runners, their families and friends once they get across the finish line to round off what is a brilliant day (once the runners have done the hard work of course!). I was over the line in 4:59:00 just in case you thought I was hiding that fact.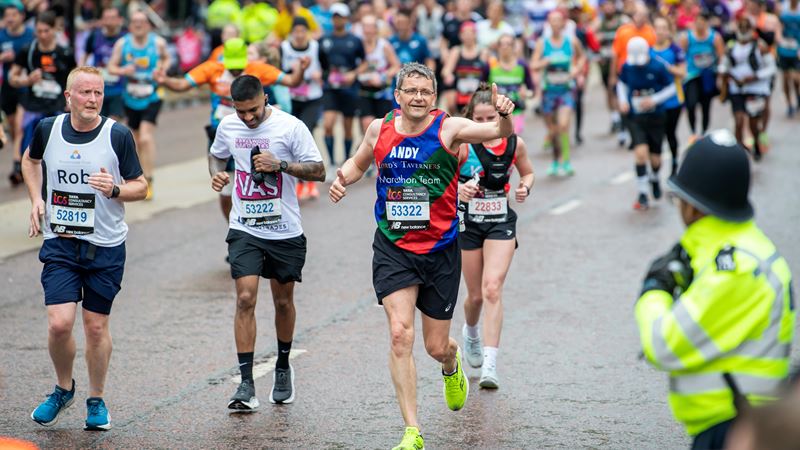 A little anecdote on times. I've completed the Marathon on six occasions, I enjoyed my first London Marathon in 2014 the least, by a mile (pun intended). Yes, I ran for the Tavs and raised the money, many of my family and my new girlfriend (now wife) were at the cheering points and finish line but my time goal was at the heart of everything that day. 
I had been injured so didn't really run in the three and a half weeks leading up to the date but it didn't dent my ambition or effect my race plan one bit (I know… idiot!). I steadily chalked off the first half in one hour 45 minutes and the remainder was hell on earth, I felt dreadful about it all the way from just past Tower Bridge to the Mall, at the finish line and continued to feel like I had underachieved long after. Not great. 
On the following five occasions, whilst I felt I broadly completed the race as quick as I could for the fitness level I had, I've actually finished slower overall than I did that day in 2014, but during each of them and at the finish line and after, regardless of how I have felt physically, I've thoroughly enjoyed it and had a huge sense of achievement each time. This was because I managed to put the fundraising and the Tavs at the heart of what I am doing. I still want to finish this race as fast as I'm capable of, and in the future, perhaps run it quicker than I ever have, but it's just not as important to me.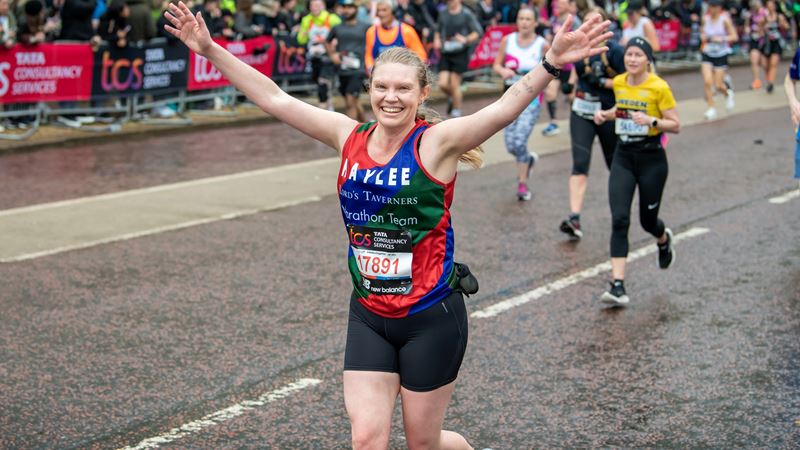 Another much shorter anecdote. I walked the Marathon distance when it was postponed in 2020, again for the Tavs. It took nine hours. I was nearly as miserable as I was in 2014, maybe more miserable actually... it rained every step, no crowds, did it with just one other person etc.  
The thing I left that experience with is simply a huge amount of respect for anyone that covers this distance on foot regardless of time. It was tough, hard on the legs, desperately tough mentally, boring and I could go on. There is no escaping over this distance and every single person crossing the finish line (or not in a few sad cases) is doing an amazing thing, so being surrounded by some 50,000+ of these people is very special on its own.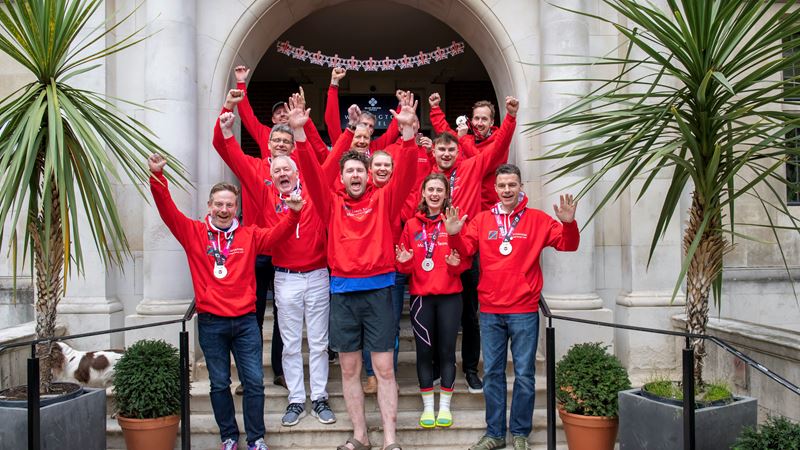 These are my stories and not yours, there will be some great times run by people in our squad in 2024 and beyond but we are a fundraising team of mixed abilities and it is brilliant fun to be a part of however you 'perform' on the day. I want to see our fundraising total from this event rocket and I think the package of how our runner-fundraisers are cared for and appreciated before, during and after the race itself can be even better. There is a team of people working on that to attract more runners and make the day a big celebration of your contribution to the Tavs. 
It is just a phenomenal day that I won't do justice with my prose... you just have to do it or if you really are too old or too unfit, then rope in a family member or friend and live it vicariously through them and donate loads of your money to the cause. Just do that now too please here.
Your Captain,
Liam Byrne 
See what happened this year
London Marathon 2023