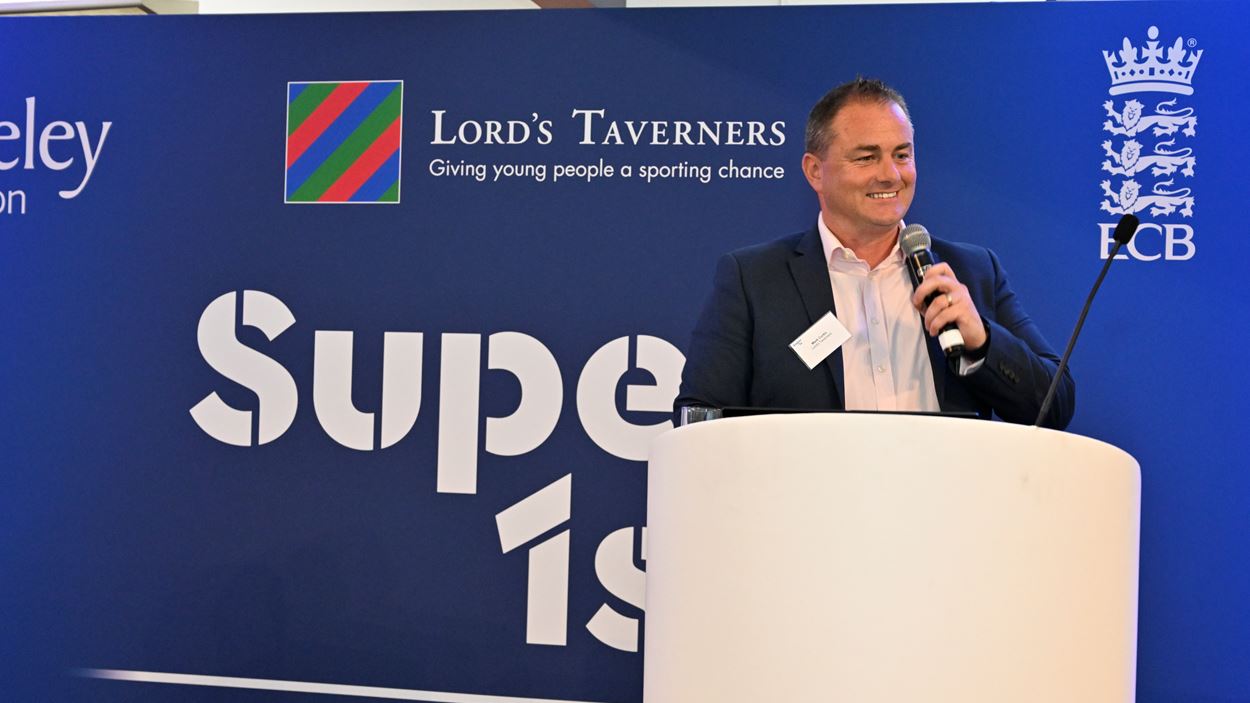 News
Update from the CEO
An update from the CEO, Mark Curtin
Hello everyone, 
It's been another very busy month at the Taverners with lots going on, including the planning for a very busy upcoming Christmas schedule.
Firstly, I'm delighted that we have confirmed the brilliant Jonny Bairstow as our guest speaker for this year's Christmas Lunch at the Westminster Park Plaza hotel. Before his injury Jonny was on red hot form this summer as one of the world's leading Test match batters and who can forget that incredible last session on Day 5 at Trent Bridge this summer. It'll be great to hear Jonny talk about his incredible year, getting fit for next year's Ashes and no doubt (as he's promised) he'll be telling his good friend interviewing him, former Sky Sports Presenter now ITV Racing lead Ed Chamberlain, a few funny anecdotes. You may also have seen that the event will be hosted by the brilliant former England Rugby player and TV presenter Martin Bayfield, a friend of the Tavs who is returning to host our Christmas Lunch for a second time. And… also, watch out for further news of a very special celebration on the day for the England disability cricket teams who were so successful down under this past summer in the Disability Cricket Ashes. More news will follow soon, so grab your tickets and don't miss out on what promises to be an incredible event! 
For those of you not venturing in to London, there is plenty of opportunity to attend one of the vast number of Christmas fundraisers taking place around the country. With a huge range of sporting speakers and other entertainers lined up, it promises to be an amazing festive season throughout the regions. Myself, our Chairman Tim Luckhurst, our Trustees and a number of staff are planning on getting out and about around the country to support these events and see everyone enjoy the festivities. So please do take a look at what's happening in your area and come join in the fun while helping raise some funds for the charity's work delivering high quality community cricket programmes. 
Therefore, a huge thank you from me to all of the amazing committees, their members, volunteers and partners who are working hard to make all of these events the huge success that they will be. Your time, commitment and skill in making the Lord's Taverners events the envy of many other organisations and a bedrock of our success is hugely appreciated, so I'm looking forward to getting to as many events as I can to say thank you and well done.
On the charity programmes front, I'm really pleased to say we are well underway with our growth into over 200 special educational needs and disabilities (SEND) schools through the expansion of our disability cricket offering. An announcement of the expansion, in partnership with the ECB and our friends at Chance to Shine, is planned for November so please look out for news of this across our media channels. During this past week I was in Exeter to see the South West Wicketz half-term festival with young people from multiple projects and Development Officers from Devon, Bristol, Plymouth and Wales all coming together to make a wonderful event. It was great to see so many young people enjoying themselves, making new friends and learning new skills that will empower them to overcome the challenges they face in their communities. Workshops delivered on disability awareness, inclusion and how to deal with pressure were invaluable and it was certainly a day to be super proud of as a Taverner!
I want to share with you a message our Devon Wicketz Development Officer, Katie, received from a parent the next day:
Katie said she would pass this email on to you for me so that I could write to thank you for the excellent cricket festival that happened in Exeter yesterday. 
My two boys Rufus and Felix have loved Wicketz in Plymouth. They got the chance to go to the festival yesterday and had a super time! They came home telling us all about it and the fun they had, it was so lovely to see them so inspired and raving about cricket.  
Please can you pass my thanks on to those who funded the event, as it was a lovely opportunity for the boys and we are very thankful.
So, one last huge thanks again to all of our members and friends of the charity for your time, commitment, generosity and passion that make days like the one Rufus and Felix have possible. I look forward to seeing many of you in the coming weeks as we celebrate all that is so wonderful about this great organisation we are all so proud to be a collective part of.
Best,
Mark