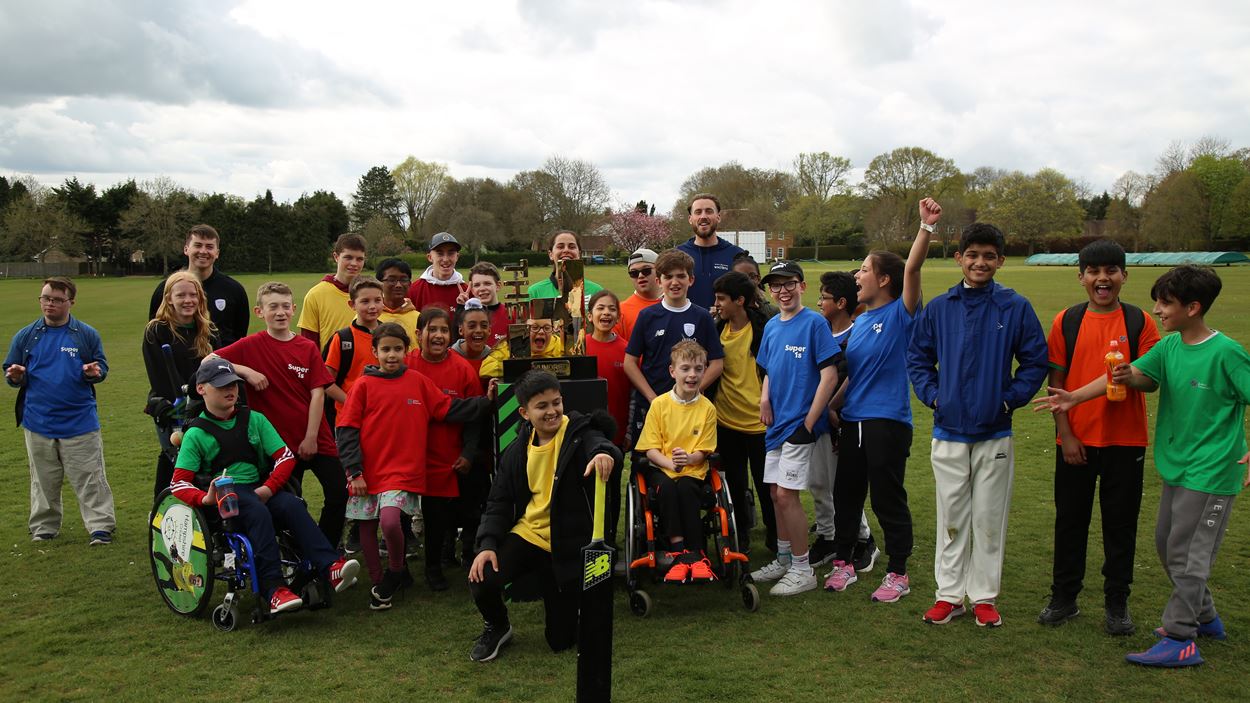 News
Maia Bouchier attends Super 1s x Wicketz event
Young people with disabilities and from disadvantaged communities in Hampshire come together through cricket.
England women's international Maia Bouchier joined the Lord's Taverners charity and Hampshire Cricket Board in Winchester last week, where young people with disabilities and from disadvantaged communities came together through cricket for a day of competition and life skills workshops.
The event, hosted at Compton & Chandlers Ford CC on 13 April, brought together participants from the charity's Super 1s and Wicketz programmes. The event gave both groups of young people the opportunity to mix and interact, and learn more about each other's every day life experiences, something they wouldn't normally get the opportunity to.
Maia Bouchier (England, Southern Vipers and Southern Brave) was on hand with the Hundred trophy on the day to help inspire everyone taking part while helping both groups of young people mix and interact through cricket.
Hampshire Wicketz Development Officer, Sam Moss and Disability Cricket Development Officer, Hugh Bernard delivered teamwork and communication workshops, to give participants on both programmes the opportunity to bond and work together. This is something they consider to be very important to the personal development of all participants involved.
Hugh Bernard said: "For both groups it's about meeting new people and building those social skills. Some of the group from the Wicketz programme probably haven't played sport alongside a young person with a disability before and vice versa for our Super 1s participants. 
"A lot of participants on the Super 1s and the Wicketz programme are from a range of diverse backgrounds and that's one of the aspects of the programmes we're extremely proud of here in Hampshire."
Sam Moss added: "Most, if not all, participants from our Wicketz project in Hampshire wont be aware of Super 1s and its impact. It's a great way to build relationships with groups of children who wouldn't usually mix, particularly in sport. Cricket, in this case, is the tool we're using to remove barriers and allow the young people to learn more about each other."
Maia Bouchier said: "It was a fantastic day and it was so inspiring to see so many kids playing the game with a smile on their face. The Wicketz and Super 1s programme do incredible work in giving opportunities to play and enjoy cricket to young people who simply wouldn't have the opportunity otherwise." 
National disability cricket programme, Super 1s, and community cricket programme, Wicketz, are both delivered by the Lord's Taverners charity in conjunction with county cricket boards across the country with the aim of empowering young people through cricket.
The Wicketz programme provides opportunities for young people living in areas of deprivation to play cricket and enjoy physical activity no matter their background, circumstances or ability.
Based in communities rather than schools, Super 1s offers disabled young people aged 12-25 an inclusive opportunity to play cricket at grassroots level. We work in 16 locations across the UK, setting up local hubs where young people can come together, play, and learn vital life skills.
The day was made possible thanks to the support of players of the People's Postcode Lottery (PPL). Players of PPL play with their postcodes to win cash prizes while raising money for charities and good causes across Great Britain and internationally, and their support of the Lord's Taverners has helped bring disadvantaged and disabled young people together through cricket.
Super 1s and Wicketz unite in Hampshire