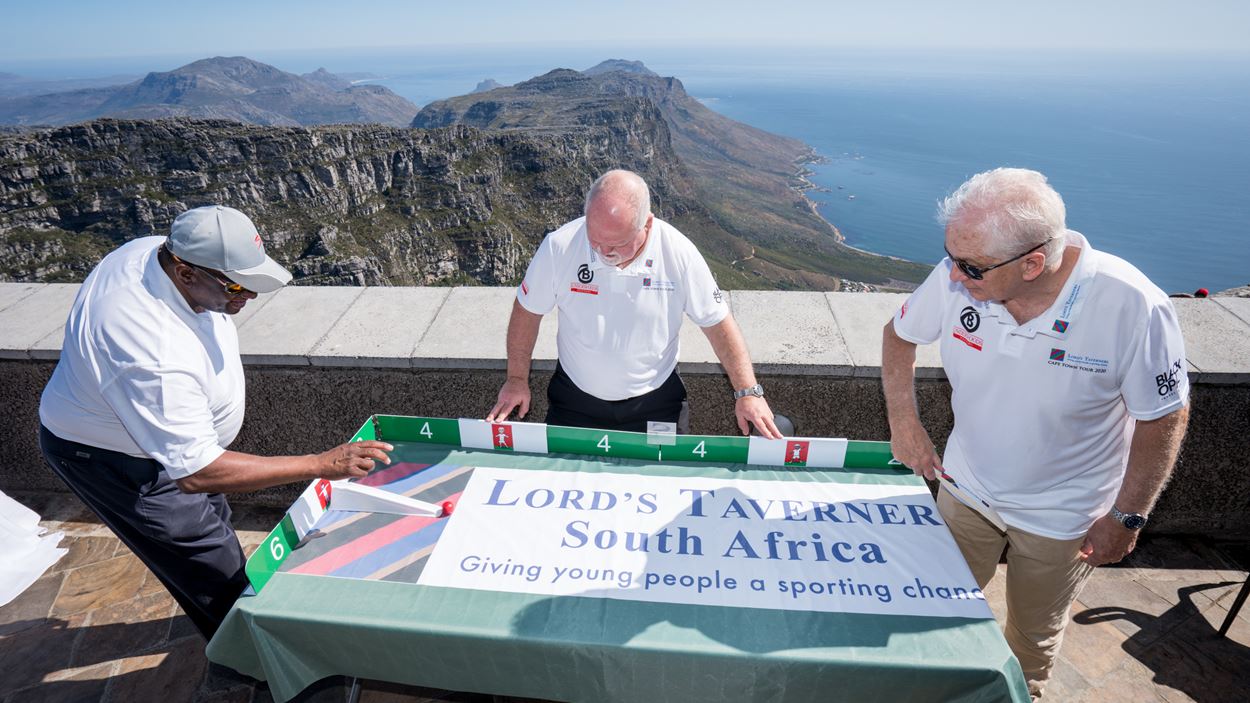 News
Table Cricket hits new heights in Cape Town and across the world
Cape Town is no stranger to thrilling cricket clashes, but the Mother City hosted a South Africa vs England challenge of a different kind on Tuesday (3 March) as legends from both nations played table cricket on Table Mountain.
Former England test captains David Gower and Mike Gatting joined Supersport commentator Jeremy Fredericks at the top of Table Mountain to demonstrate the sport which is widely played in South Africa and the UK. And just like the mainstream form of the game, Table Cricket's footprint is expanding across the world.
Table cricket is an adapted version of cricket, played on a table tennis table and specially designed to give young people with a disability the chance to play and compete in the sport – allowing participants to develop team work and social skills while also developing self-confidence.
Gower and Gatting are in South Africa as members of the Lord's Taverners Celebrity Cricket XI. The UK-based disability sports charity will play two cricket matches in Cape Town against its sister organisation Lord's Taverners South Africa to help raise awareness of the work of the charity locally which includes table cricket.
The growth of the game has been phenomenal with a nearly 500 schools taking part in the UK and nearly 9,000 young people took part in the programme last year - which included a national competition with a final at Lord's, the Home of Cricket.
In Cape Town, 10 schools regularly enjoy the game with activity also taking place in Ireland, India and even countries such as Greece.
Speaking at the top of the UNESCO World Heritage Site standing at more than 1,000m at its highest point, Mike Gatting, Lord's Taverners Trustee and current chairman of the MCC World Cricket Committee said: "Getting access to free and accessible sport is one of the biggest barriers cited by young disabled people who are trying to be more active and be part of the game that we all know and love.
"We've seen first-hand in the UK what table cricket can offer. It enables young people to understand tactics, work as a team and to build a social life. It helps to develop self-confidence, leadership and as we are seeing more and more around the world, there is a real need for the game to provide vital life skills and help disabled young people fulfil their potential."
His point was echoed by David Ralph, CEO of Lord's Taverners South Africa. He said: "Table cricket gives so much to the young people within the schools where it is played. These young people don't get the chance to play sport but this game offers them that opportunity and to learn all of the lessons that sport has taught us - and of course to have fun. The sport is growing in South Africa and we are now in 30 schools across the country and the visit of legends such as Mike Gatting and David Gower as part of the Lord's Taverners tour will help us not only raise the profile of the game, but also allow us to give more schools the chance to compete."
Table Cricket on Table Mountain