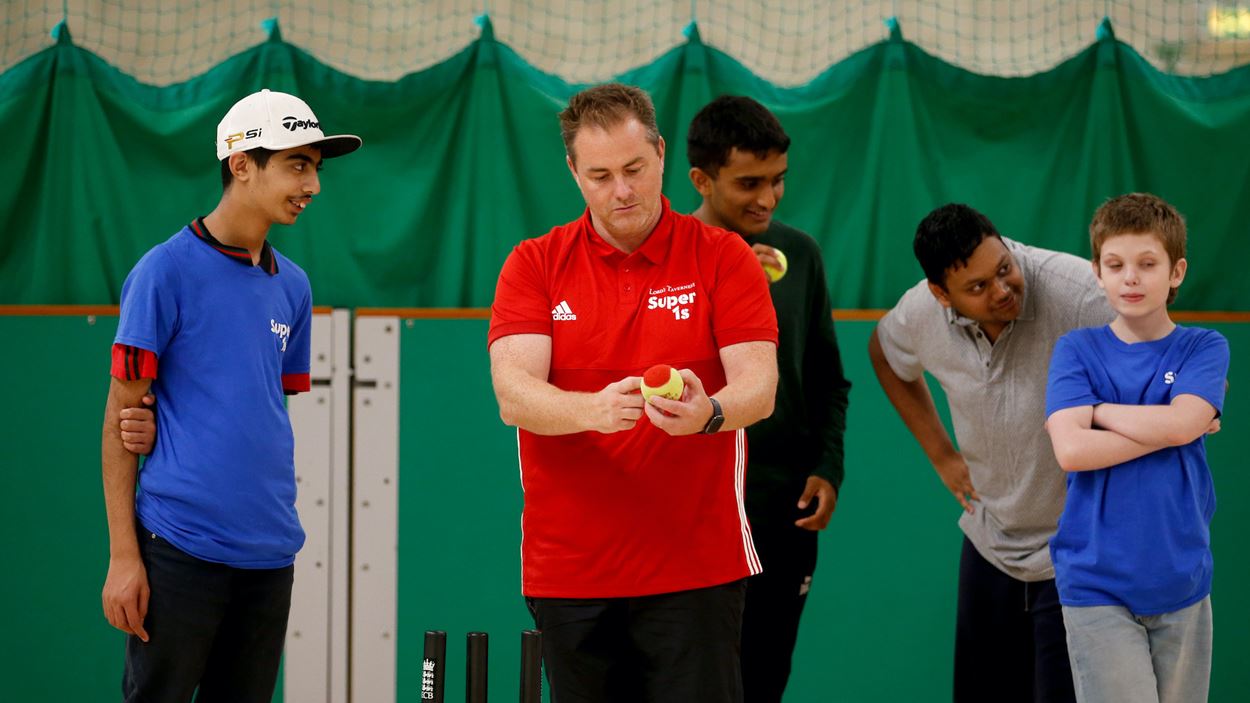 News
Update from the CEO
An update from our CEO, Mark Curtin.
Hi everyone,
I hope you are all looking forward to an exciting busy summer of cricket across all forms of the game from community and grassroots through to the professional and elite games there's plenty for all to enjoy. The highlight of which will no doubt be England Cricket's deaf, blind and learning disability teams playing down under in an 'Ashes' style series of games, known as the International Cricket Inclusion Series . 
Here at the Tavs we also have a very, very busy summer of events and activities. I am thoroughly looking forward to the Super 1s celebration evening hosted by Adam Hills at Lord's on 5 July. A fun packed evening where, thanks to incredible support of ECB and Berkeley Foundation, we get to be inspired by, and celebrate the successes of all the participants and teams of people who make our Super 1s programme the huge success that it is.
I am also looking forward to seeing teams from across the country compete in our National Table Cricket Finals Day at Lord's on 17 June. It was an absolute pleasure to personally experience a couple of the regional finals recently at Headingley and the birthplace of the Paralympics, Stoke Mandeville. I particularly want to acknowledge and thank Lesley Williams for her continued commitment and support of the Table Cricket programme. It was great to see Lesley again at the Thames Valley and London regional finals, and we all look forward to seeing her at Lord's with her guests and some family members as we present the Pamela & Gerald Williams Spirit of Cricket Award. For those who do not know, this is presented in memory of Gerald Williams, a long-standing solicitor to and member of the Lord's Taverners and his wife Pamela, a dedicated Lady Taverner. It is awarded to outstanding individuals who uphold the spirit and traditions of the game.
Looking further ahead this summer, we have plenty of Wicketz and Super 1s residentials, festivals and activities happening all over the country. It's brilliant to be able to witness the impact and outcomes of all of the hard work commitment and dedication of so many people from our staff, members, other supporters, volunteers and numerous partners across the Lord's Taverners community coming to life!
In addition to this we have a huge range of Taverners XI cricket matches taking place across the country this summer. A big thanks and well done to Merv Ramsey, supported by the cricket committee, excellently chaired by Paul Prichard, our regional chairs and their committees for all of the collective time, effort and energy that goes into arranging so many events which are all fantastic opportunities to showcase the work of the Taverners and raise some funds for our work along the way. One huge, great big team effort by so many proud and committed Taverners. Please do get along to a day with friends and family if you can, to see the team. On that note, I am sure everyone will also have been very pleased to hear news this week that the inspirational Georgia Adams is our new club captain, I would like to personally thank and welcome Georgia for taking this role on and hope she enjoys skippering the guys and girls over the summer!
Finally from me for this month, please do look out for an extended piece in the latest version of The Long Room magazine where I have outlined what our members and supporters can expect to see as we start to roll out our new strategy.
A huge thank you to countless numbers of people for their time, input, ideas and views on all manner of ways in which we can improve and develop all that we do to take this amazing charity forward in the future. Our proud club and its members give so much to enable us to impact and empower young people who participate on or from our range of programmes.
I hope everyone continues to be proud of the role they play no matter how big or small – thank you and hopefully see as many as possible of you over the busy summer!
Best wishes,
Mark and the team!